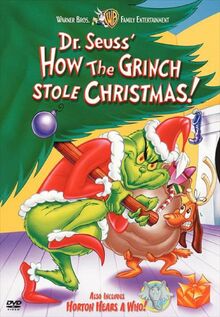 Dr. Seuss' How the Grinch Stole Christmas! is a 1966 American animated television special directed by Chuck Jones. It is based on the eponymous children's book by Dr. Seuss, the story of The Grinch trying to take away Christmas from the townsfolk ofWhoville below his mountain hideaway. The special, which is considered a short film as it runs less than an hour, is one of the classic Christmas specials from the 1960s still shown regularly on television. Jones and Geisel previously worked together on thePrivate Snafu training cartoons for United Productions of America during World War II.
The 26-minute short was originally telecast in the United States on CBS on December 18, 1966. CBS repeated it annually during the Christmas season until their last airing in 1986. Beginning in 1987, TNT began exclusively running the special. Unlike the years it was on CBS, Grinch now ran several times during the Christmas season. In 1990, TBS also began running the special. From 1996 until 2005, The WB Television Network also began running the special at least once per season. Then in 2006, Grinch returned to one of the big three networks, this time ABC, which began broadcasting it several times annually during the Christmas season ever since. It is currently aired during the Christmas season additionally on various cable channels owned by Turner Broadcasting System. including TNT, TBS, Cartoon Network, and Boomerang but with some scenes trimmed to fit more commercial time.
Boris Karloff, in one of his final roles, narrates the film and also provides the speaking voice of The Grinch. (The opening credits state, "The sounds of the Grinch are by Boris Karloff...And read by Boris Karloff too!") The special was originally produced by The Cat in the Hat Productions in association with the television and animation divisions of Metro-Goldwyn-Mayer Studios.
Community content is available under
CC-BY-SA
unless otherwise noted.