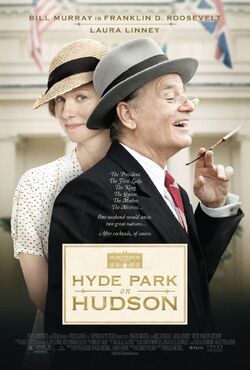 The President. The First Lady. The King. The Queen. The Mother. The Mistress...One weekend would unite two great nations...After cocktails of course.
Directed By
Roger Michell
Produced By
David Aukin
Kevin Loader
Written By
Richard Nelson
Cast
Bill Murray
Laura Linney
Olivia Williams
Olivia Colman
Samuel West
Distributed By
Focus Features
Release Date
December 7, 2012
Rating


Hyde Park on Hudson is a 2012 British biographical comedy-drama film directed by Roger Michell. Hyde Park on Hudson had its world premiere at the 2012 Telluride Film Festival on 31 August 2012, then at the 2012 Toronto International Film Festival on 10 September 2012, with release in the United States on 7 December 2012. The UK release will follow on 1 February 2013.
n June 1939, President Franklin Delano Roosevelt and his wife Eleanor host the King and Queen of England for a weekend at the Roosevelt home at Hyde Park on Hudson, in upstate New York- the first-ever visit of a reigning English monarch to America. With Britain facing imminent war with Germany, the Royals are desperately looking to FDR for support. But international affairs must be juggled with the complexities of FDR's domestic establishment, as wife, mother, and mistresses all conspire to make the royal weekend an unforgettable one. Seen through the eyes of Daisy, Franklin's neighbor and intimate, the weekend will produce not only a special relationship between two great nations, but, for Daisy - and through her, for us all - a deeper understanding of the mysteries of love and friendship.
Community content is available under
CC-BY-SA
unless otherwise noted.