Wiki Targeted (Entertainment)
Play Sound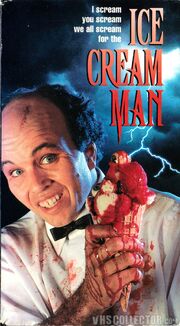 Ice Cream Man is a 1995 horror comedy film which was produced and directed by Paul Norman, a director of pornographic films, under the pseudonym Norman Apstein. It is Norman's first and only attempt at mainstream filmmaking. It was written by Sven Davison and David Dobkin (who would later write and direct the films Wedding Crashers and Fred Claus), and stars Clint Howard. The film, made for an estimated $2 million budget, disappeared quickly after its release, but in recent years has developed a cult following among viewers who see it as an unintentional comedy, and enjoy it for its unintentionally campy production values. Joe Bob Briggs eventually hosted the movie on TNT when it was shown on MonsterVision and Clint Howard made an appearance discussing the movie with Briggs. It was released on DVD in 2004.
Plot
In a black-and-white prologue, a young boy witnesses the murder of an ice cream man in a small town. Years later, the boy, named Gregory Tutor, returns to the town to become ice cream man himself. He has spent the intervening years in a mental hospital. He kills some people (and a dog) while doing his duties as ice cream man, leading to suspicion from local kids and the police.
Clint Howard stars in the horror flick Ice Cream Man. Today Clint Howard is looking to add a double scoop to his terror tale.