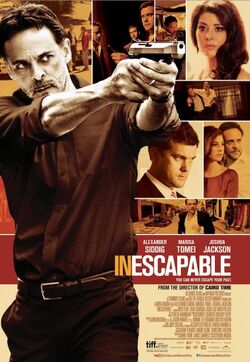 You can never escape your past.
Cast
Alexander Siddig, Joshua Jackson, Marisa Tomei
Studio
Alliance Films, Killer Films
Release Date
February 22, 2013
Rating
Inescapable is a 2013 drama feature film directed by Ruba Nadda and starring Alexander Siddig, Joshua Jackson, Marisa Tomei, and Oded Fehr.
One afternoon, on a typical day at work, Adib is confronted with devastating news: His eldest daughter, Muna, has gone missing in Damascus. Now Adib, who has not been back in over 30 years, must return to Syria and deal with his secret past in order to find her. Inescapable is a thriller about a father's desperate search for his daughter and the chaos of the Middle East he left behind.
Alexander Siddig as Adib
Joshua Jackson as Paul
Marisa Tomei as Fatima
Oded Fehr as Sayid
Saad Siddiqui as Halim
Bonnie Lee Bouman as Emily
Jay Anstey as Muna
Related Links
Edit
Community content is available under
CC-BY-SA
unless otherwise noted.