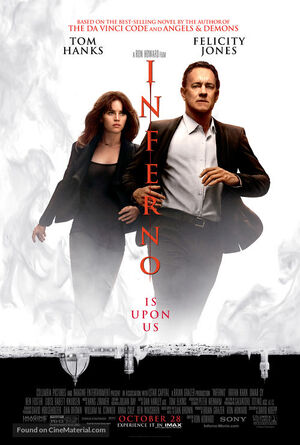 The Da Vinci Code And Angels & Demons Were Just The Beginning
Produced By
Brian Grazer
Ron Howard
Based on
Inferno (2013) Novel by Dan Brown
Cast
Tom Hanks
Felicity Jones
Cinematography
Salvatore Totino
Studio
Imagine Entertainment
Distributed By
Columbia Pictures
Release Date
October 28, 2016
Inferno is a 2016 mystery thriller film directed by Ron Howard and written by David Koepp and is based on the 2013 novel Inferno.
Famous symbologist Robert Langdon (Tom Hanks) follows a trail of clues tied to Dante, the great medieval poet. When Langdon wakes up in an Italian hospital with amnesia, he teams up with Sienna Brooks (Felicity Jones), a doctor he hopes will help him recover his memories. Together, they race across Europe and against the clock to stop a madman (Ben Foster) from unleashing a virus that could wipe out half of the world's population.
- Tom Hanks as Robert Langdon
- Felicity Jones as Sienna Brooks
Community content is available under
CC-BY-SA
unless otherwise noted.