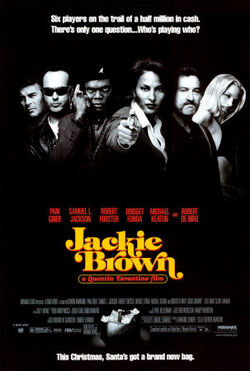 Six players on the trail of a half a million in Cash. There's only one question... Who's playing who?
Produced By
Lawrence Bender
Paul Hellerman
Cast
Pam Grier, Samuel L. Jackson, Robert Forster, Bridget Fonda, Michael Keaton, Robert De Niro, and Chris Tucker
Release Date
December 25, 1997
Rating

for strong language, some violence, drug use and sexuality

Jackie Brown is a 1997 crime drama film written and directed by Quentin Tarantino. It is an adaptation of American novelist Elmore Leonard's novel Rum Punch and pays homage to 1970s blaxploitation films, particularly 1974's Foxy Brown.
Spoiler warning: The following contains plot details about
the entire movie.
Jackie Brown is a flight attendant for a small Mexican airline, the latest step down for her career. To make ends meet, she smuggles money from Mexico into the United States for Ordell Robbie, a gun runner under the close watch of the ATF. Ordell learns that another of his workers, Beaumont Livingston, has been arrested. Fearing that Livingston will become an informant in order to avoid jail time, Ordell arranges for his bail with bondsman Max Cherry. Following his release, Ordell promptly lures Livingston out to be killed.
Acting on information Livingston had indeed shared, ATF agent Ray Nicolette and two LAPD detectives Harold Spivey and Mark Dargus intercept Jackie as she arrives in the United States with Ordell's cash and some cocaine that Brown was unaware was stashed in her bag. Initially refusing to deal with Nicolette, Spivey and Dargus, she is sent to jail on possession of drugs with intent to sell. Sensing that Jackie may now be just as likely to inform as Livingston had been, Ordell goes back to Max to arrange her bail. Max arrives to pick her up and, only partly masking his attraction to her, offers to buy her a drink and help determine her legal options.
Ordell later arrives at Jackie's house intending to murder her. She surprises him by pulling a gun she surreptitiously borrowed from Max's glove compartment, however, and barters a deal with Ordell whereby she will pretend to help the authorities while still managing to smuggle $500,000 of Ordell's money, enough to allow him to retire. To carry out this plan, Ordell employs Melanie Ralston, a woman he lives with, and Louis Gara, a friend and former cellmate. He also uses a naïve Southern girl, Sheronda.
With Jackie's help, Nicolette, Spivey and Dargus arrange a sting to catch Ordell, unaware that Jackie and Ordell plan to double-cross them by diverting the actual money before the authorities make an arrest. Unbeknownst to the others, Jackie plans to deceive all of them with the help of Max in order to keep the $500,000 for herself.
After a trial run, during which Nicolette could observe the operation, the stage is set for the actual event. In a large shopping mall near Los Angeles, Jackie buys a new suit and enters a dressing room. Her role is to swap bags there with Melanie and Louis, supposedly passing off the $500,000 under Nicolette's nose. Instead, she gives Melanie only $50,000 and leaves the rest behind in the dressing room for Max to pick up. Jackie then feigns despair as she calls Nicolette, Spivey and Dargus out from hiding and claims that Melanie took all the money and ran away.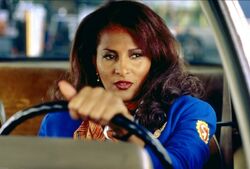 In the parking lot, Melanie annoys and mocks Louis until he loses his temper and shoots her. Ordell discovers that Louis has only $40,000 in the bag (Melanie having kept $10,000 for herself after being tricked into doing so by Jackie). Ordell realizes his money has been stolen and, also angered to learn that Louis shot Melanie, kills Louis. Ordell's next concern is the involvement of Max Cherry, having been told by Louis that he spotted Max in the store before the pickup. Lured back to Max's office, where Jackie is said to be frightened and waiting to hand over his money, Ordell arrives armed. Jackie yells out that Ordell has a gun and he is shot dead by Nicolette, who had been hiding in another room.
In the clear with the law and in possession of the money, minus a 10% cut that Max has taken for himself, Jackie decides to leave the country and travel to Madrid, Spain. Jackie invites Max to leave with her, but he declines before Jackie kisses him goodbye and leaves.
After completing Pulp Fiction, Quentin Tarantino and Roger Avary acquired the film rights to Elmore Leonard's novels Rum Punch, Freaky Deaky, and Killshot. Tarantino initially planned to film either Freaky Deaky or Killshot and have another director make Rum Punch, but changed his mind after re-reading Rum Punch, stating that he "fell in love" with the novel over again.
While adapting Rum Punch into a screenplay, Tarantino changed the race of the main character from white to black, as well as renaming her from Burke to Brown, titling the screenplay Jackie Brown. Avery and Tarantino hesitated to discuss the changes with Leonard, finally speaking with Leonard as the film was about to start shooting. Leonard loved the screenplay, considering it not only the best of the twenty-six screen adaptations of his novels and short stories, but also stating that it was possibly the best screenplay he had ever read.
Tarantino wanted Pam Grier to play the title character. She previously read for the Pulp Fiction character Jody, but Tarantino did not believe audiences would find it plausible for Eric Stoltz to yell at her. Grier did not expect Tarantino to contact her after the success of Pulp Fiction. When she showed up to read for Jackie Brown, Tarantino had posters of her films in his office. She asked if he had put them up because she was coming to read for his film, and he responded that he was actually planning to take them down before her audition, to avoid making it look like he wanted to impress her.
Community content is available under
CC-BY-SA
unless otherwise noted.