watch 01:38
The Loop (Movies)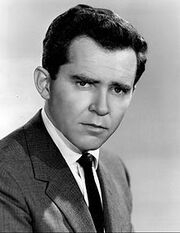 James Broderick (b. March 7, 1927-d. November 1, 1982) was an American actor most known for playing Doug Lawrence in the television series Family from 1976 until 1980.
He was born in Charlestown, New Hampshire as a raised Catholic. In 1947, after he served for the Armed Forces, he starred in his first role: in the movie Arms and the Man. He won the role of Bluntchili in the film.
His prominent roles include Ray Brock in Alice's Restaurant, the subway motorman in The Taking of Pelham One, Two, Three, among others.
He died from cancer in 1982 at the age of only 55 years. He left two children and his wife, Patricia Broderick.
Community content is available under
CC-BY-SA
unless otherwise noted.