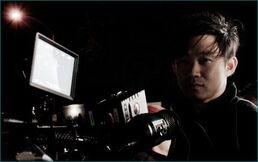 James Wan is an Australian film producer, screenwriter and film director of Malaysian Chinese descent. He is widely known for directing the horror film Saw and creating Billy the puppet. Wan has also directed Dead Silence, Death Sentence, Insidious, Insidious: Chapter 2, and The Conjuring. He is currently directing Fast & Furious 7, due for release in 2015.
Stygan (2000) Director/Story by
Saw (2004), Producer
Saw II (2005), Producer
Saw III (2006), Producer
Dead Silence (2007), Director
Dead Sentence (2007), Director
Saw VI (2007), Producer
Saw V (2008), Producer
Saw VI (2009), Producer
Saw 3D (2010), Producer
Insidious (2011), Director/Story by
The Conjuring (2013), Director
Insidious: Chapter 2 (2013), Director/Story by
Annabelle (2014), Producer
Fast and Furious 7 (2015), Director
The Conjuring 2 (2015), Story by
Community content is available under
CC-BY-SA
unless otherwise noted.