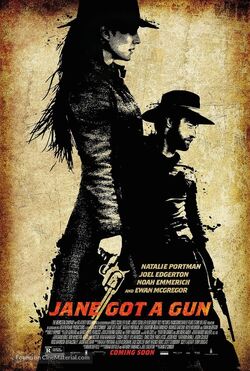 Strength, justice, power, vengeance.
Directed By
Gavin O'Connor
Produced By
Terry Dougas
Aleen Keshishian
Scott LaStaiti
Natalie Portman
Mary Regency Boies
Zack Schiller
Scott Steindorff
Screenplay By
Brian Duffield
Joel Edgerton
Anthony Tambakis
Cinematography
Mandy Walker
Music By
Marcello De Francisci
Lisa Gerrard
Studio
1821 Pictures
Boise/Schiller Film Group
Handsomecharlie Films
Scott Pictures
Straight Up Films
Unanimous Pictures
WeatherVane Productions
Release Date
January 29, 2016 (United States)
Rating

Jane Got a Gun is a 2016 American action Western film directed by Gavin O'Connor and written by Brian Duffield, Joel Edgerton, and Anthony Tambakis. The film stars Natalie Portman as Jane Hammond, also featuring Joel Edgarton, Noah Emmerich, Ewan McGregor, Rodrigo Santoro, Boyd Holbrook, Alex Manette, James Burnett and Sam Quinn. It was released on January 29, 2016 by The Weinstein Company.
Panic strikes Jane Hammond (Natalie Portman) when her outlaw husband John returns to their farm with bullet wounds. Expecting the worst, she brings her young daughter to safety and travels to the home of Dan Frost (Joel Edgerton), a boozing ex-lover who may be her only hope. With Dan now on her side, Jane prepares for a showdown with the vengeful John Bishop and his gang of thugs. Looking to settle an old score, Bishop must now contend with the gun-toting Jane and her new partner.
Community content is available under
CC-BY-SA
unless otherwise noted.