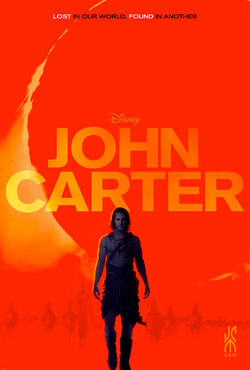 Lost in Our World, Found in Another
Produced By
Lindsey Collins, Jim Morris and Colin Wilson
Release Date
March 9 2012
Budget
$250,000,000 (estimated)
Gross
$282,778,100 (worldwide) (12 August 2012)
John Carter is a fantasy film directed by Andrew Stanton, the director of WALL-E and Finding Nemo. The release date was March 9, 2012. The movie is based on the 1912 fantasy novel A Princess of Mars, by Edgar Rice Burroughs.
Former Confederate captain John Carter (Taylor Kitsch) is mysteriously transported to Mars ("Barsoom") where he becomes part of a conflict between the various nations of the planet, whose leaders include Tars Tarkas (Willem Dafoe) and Princess Dejah Thoris (Lynn Collins). Carter takes it upon himself to save Barsoom and its people from a growing threat.
Taylor Kitsch
Lynn Collins
Mark Strong
Dominic West
Thomas Haden Church
James Purefoy
Bryan Cranston
Willem Dafoe
Related Links
Edit
Community content is available under
CC-BY-SA
unless otherwise noted.