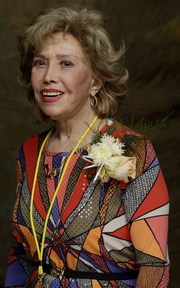 June Foray (September 18, 1917 – July 26, 2017) was an American voice actress who had worked for most of the studios which produced animated films since the 1940s. Her notable film work includes Cinderella and Mulan.
Foray was born in Springfield, Massachusetts, where her voice was first broadcast in a local radio drama when she was 12 years of age; by age of 15 she was doing regular radio voice work. Two years later she moved to Los Angeles, California, and soon became a popular voice actress on radio there, including on the national programs of Jimmy Durante and Danny Thomas. In the 1940s, she began film work as well, including a few appearances acting in live-action movies, but mostly doing voice overs for animated cartoons.
For Walt Disney, she played Lucifer the Cat in the feature film Cinderella; she did a variety of voices in Walter Lantz's Woody Woodpecker cartoons; for Warner Bros. Cartoons she was Granny, owner of Tweety and Sylvester (whom she has played, on and off, since 1943), and, memorably, a series of witches including Witch Hazel for Chuck Jones. She appeared on The Smurfs (as Jokey Smurf and Mother Nature), George of the Jungle, and How the Grinch Stole Christmas; she was the voice of the original "Chatty Cathy" doll (coincidently, she was the voice of the "Talking Tina" doll in The Twilight Zone episode, "The Living Doll"), and is a voice on the Disney attraction "Pirates of the Caribbean" as the wife of the man getting dunked ("Don't tell him, Carlos!").
Foray also has done extensive voice acting for Stan Freberg.
She also voiced Magica De Spell and Ma Beagle in the televised cartoon DuckTales. She even voiced Grammi Gummi on Disney's Adventures of the Gummi Bears.
She was the last surviving major classic cartoon voice artist. She remains active to this day, with roles in recent animated films, such as Mulan (as Grandmother Fa) and Looney Tunes: Back in Action.
Chuck Jones is reported to have said, "June Foray is not the female Mel Blanc. Mel Blanc was the male June Foray."
June Foray has recently become a contributor to ASIFA-Hollywood's animation archives|ASIFA-Hollywood's Animation Archive Project.
On July 26, 2017, Foray's friend, Dave Nimitz, reported that Foray had died earlier in the day at her home in Los Angeles at the age of 99.
Filmography
Edit
Year
Title
Role
Notes
Circa 1937–1939
Lady Make Believe
Host
She also wrote the episodes
1944–1952
The Buster Brown Program
Midnight the Cat, Old Grandie
1945–1947
Smile Time
Various characters
1946
Cavalcade of America
Mary Anne Clark
"Danger: Women at Work"
1946
Let George Do It
Mrs. Hutchinson
"Cousin Jeff and the Pigs"
1946; 1948–1950
The Lux Radio Theatre
Additional voices
"Coney Island Repeat"
"Mother Wore Tights"
"Wabash Avenue"
1947
The Life of Riley
Secretary
"Riley Enrolls at Pip Instead of UCLA"
1947–1950
The Jimmy Durante Show
Various characters
1948
NBC University Theatre
Cunégonde
"Candide"
1949
Command Performance
The Granny
1949
Screen Directors Playhouse
Mother Zombie
"The Ghost Breakers"
1950
The Adventures of Philip Marlowe
Stewardess, Receptionist
"The Last Wish"
1952
Amos 'n' Andy
Chiquita
"Leroy's Oil Stock"
1954
Rocky Fortune
Linda, Miss Fabian
"The Museum Murder"
1954
Our Miss Brooks
Mrs. Thundercloud
"Bartering With Chief Thundercloud"
1956–1957
CBS Radio Workshop
Amy Lesley, Convention Secretary, Edwina, Gladys Farley, Grocery Clerk, Listener #2, Rhoda Mae Flogg, Temperamental Actress, Vess Neff
4 episodes
1957
The Stan Freberg Show
Various characters
1979
Sears Radio Theater
Spanish Lady on the Street
"Voodoo Lady"
2007
Adventures in Odyssey
Madge
"The Other Side of the Glass Part 1"
Year
Title
Role
Notes
1943
The Egg Cracker Suite
Oswald the Lucky Rabbit
Voice role
Universal Short
The Unbearable Bear
Sleepwalking Wife Bear
Voice role
Merrie Melodies Short
1946
The Lonesome Stranger
Little Orphan Fanny
Voice role
Live action short
Bacall to Arms
Laurie Be-Cool, Mother in Law
Voice role
Merrie Melodies Short
1950
Cinderella
Lucifer the Cat
1951
Get Rich Quick
Mrs. Geef, Additional voices
Goofy short
Car of Tomorrow
Fashion Car announcer, Talking Turn Signal
MGM short
1952
Trick or Treat
Witch Hazel
Donald Duck short
1952
Lambert the Sheepish Lion
Mrs. Sheep
1952
How to Be a Detective
The Dame
Goofy short
1952
One Cab's Family
Mary, Nurse
MGM short
1953
Little Johnny Jet
Mary
MGM short
1953
Peter Pan
Squaw
She also served as the model for one of the mermaids
1953
Father's Day Off
Goofy Jr.
Goofy short
1953
Father's Week-end
Mrs. Geef
Goofy short
1954
Pet Peeve
Joan
Tom and Jerry short
uncredited
1954
The Farm of Tomorrow
Hen, Female announcer
MGM short
1955
Mouse for Sale
Joan
Tom and Jerry short
1955
Red Riding Hoodwinked
Red Riding Hood's Grandmother, Red Riding Hood
Sylvester and Tweety short
1955
This Is a Life?
Granny
Bugs Bunny short
1956
The Flying Sorceress
Joan, Witch
Tom and Jerry short
1956
Broom-Stick Bunny
Witch Hazel
Bugs Bunny short
1956
Tweet and Sour
Granny
Sylvester and Tweety short
1956
Get Lost
Knothead and Splinter
Woody Woodpecker short
1956
Tugboat Granny
Granny
Sylvester and Tweety short
1956
Rocket-bye Baby
Martha Wilbur, Old Lady, P.A. voice
Merrie Melodies short
1956
Deduce, You Say
Alfie's Girlfriend, The Shropshire Slasher's Mother
Daffy Duck short
1957
Red Riding Hoodlum
Knothead and Splinter
Woody Woodpecker short
1957
International Woodpecker
Knothead and Splinter
Woody Woodpecker short
1957
Boston Quackie
Mary
Daffy Duck short
uncredited
1957
Mucho Mouse
Joan
Tom and Jerry short
1957
Greedy for Tweety
Granny
Sylvester and Tweety short
1957
Rabbit Romeo
Millicent
Bugs Bunny short
uncredited
1957
The Snow Queen
Court Raven, Old robber, Old Fairy
1959 English dub
1957
Tom's Photo Finish
Joan
Tom and Jerry short
1957
The Unbearable Salesman
Knothead and Splinter
Woody Woodpecker short
1958
Don't Axe Me
Elmer Fudd's Wife
Daffy Duck short
1958
Hare-Less Wolf
Charles Wolf's Wife
Bugs Bunny short
1958
A Pizza Tweety Pie
Granny
Sylvester and Tweety short
1958
The Vanishing Duck
Joan
Tom and Jerry short
1958
A Bird in a Bonnet
Granny
Sylvester and Tweety short
1959
Apes of Wrath
Mama Ape
Bugs Bunny short
1959
A Broken Leghorn
Miss Prissy
Foghorn Leghorn short
1959
China Jones
Dragon Lady
Daffy Duck short
uncredited
1959
A Witch's Tangled Hare
Witch Hazel
Bugs Bunny short
1959
Loopy De Loop
Red Riding Hood, Grandma
"Wolf Hounded"
1959
Goldimouse and the Three Cats
Narrator, Mother Cat, Goldimouse
uncredited
1960
Trip for Tat
Granny
Sylvester and Tweety short
1961
The Last Hungry Cat
Granny
Sylvester and Tweety short
uncredited
1962
Quackodile Tears
Daffy Duck's Wife
uncredited
1962
Honey's Money
The Wealthy Widow
Yosemite Sam short
1962
The Jet Cage
Granny
Sylvester and Tweety short
1964
Hawaiian Aye Aye
Granny
Sylvester and Tweety short
1965
Of Feline Bondage
Jerry's Fairy Godmother
Tom and Jerry short
1965
The Year of the Mouse
Second Mouse
Tom and Jerry short
1966
A-Haunting We Will Go
Witch Hazel
Daffy Duck short
1966
The Man Called Flintstone
Tanya
1970
The Phantom Tollbooth
Faintly Macabre the Witch, Princess of Pure Reason, Voice of Ralph
1975
Jaws
Michael Brody, Sean Brody
ADR work
1981
Time Bandits
Melina
1981
The Looney Looney Looney Bugs Bunny Movie
Granny
1982
Bugs Bunny's 3rd Movie: 1001 Rabbit Tales
Granny / Mother Gorilla / Goldimouse / Mrs. Sylvester / Jack's Mother
1983
Daffy Duck's Fantastic Island
Granny, Miss Prissy, Sylvester's wife
1983
The Smurfic Games
Jokey Smurf
TV movie
1984
Strong Kids, Safe Kids
Jokey Smurf
Video Documentary Short
1987
Scooby-Doo Meets the Boo Brothers
Poor Old Witch
TV movie
1987
Daws Butler: Voice Magician
Herself
1987
DTV Monster Hits
Hazel the Witch, Colleen
TV movie
1988
Tex Avery, the King of Cartoons
Herself
TV movie Documentary
1988
Who Framed Roger Rabbit
Wheezy, Lena Hyena
1988
Daffy Duck's Quackbusters
Uncredited
1989
Little Nemo: Adventures in Slumberland
Librarian
1992 English dub
1990
DuckTales the Movie: Treasure of the Lost Lamp
Mrs. Featherby
1990
Of Moose and Men: The Rocky & Bullwinkle Story
Herself / Rocky
TV movie
1991
Problem Child 2
Voice of puppet
Live-action film
1992
Adventures in Odyssey: A Fine Feathered Frenzy
Evelynn Harcourt
Video
1992
The Magical World of Chuck Jones
Herself
Documentary
1992
Boris and Natasha: The Movie
Autograph Woman
TV movie
1993
I Yabba-Dabba Do!
Additional voices
TV movie
1994
Thumbelina
Queen Tabitha
1992
Adventures in Odyssey: Electric Christmas
Evelynn Harcourt
Video
1996
Space Jam
Granny, Witch Hazel
1998
Mulan
Grandmother Fa
2000
The Adventures of Rocky and Bullwinkle
Rocky J. Squirrel, Animated Natasha Fatale, The Narrator's Mother
Voice role

Live-action/animated film

2000
Tweety's High-Flying Adventure
Granny
Direct-to-video film
2003
Looney Tunes Back in Action
Granny
Live-action/animated film
2003
Baby Looney Tunes' Eggs-traordinary Adventure
Granny
Video
2003
Looney Tunes: Reality Check
Granny
Video
2003
Looney Tunes: Stranger Than Fiction
Granny / Witch Hazel
Video
2003
Irreverent Imagination: The Golden Age of the Looney Tunes
Herself
Video Documentary
2003–2006
Behind the Tunes
Herself
Video Documentary Shorts: Short Fuse Shootout: The Small Tale of Yosemite Sam / Putty Problems and Canary Rows / Blanc Expressions / A Hunting We Will Go – Chuck Jones' Wabbit Season Twilogy / Wild Lines – The Art of Voice Acting
2004
Mulan II
Grandmother Fa
Direct-to-video film
2005
Corpse Bride
Flora
Voice role
2006
The Legend of Sasquatch
Momma Sasquach
2006
Bah, Humduck! A Looney Tunes Christmas
Granny as The Ghost of Christmas Past
Direct-to-video film
2008
Mel Blanc: The Man of a Thousand Voices
Herself
Video Documentary
2008
I Smurf the Smurfs!
Herself / Jokey Smurf
Video Documentary Short
2011
I Tawt I Taw A Puddy Tat
Granny
Theatrical Short
2013
I Know That Voice
Herself
Documentary
2013
The One and Only June Foray
Herself
Documentary
2014
Rocky and Bullwinkle
Rocky, Fearless Leader's Mother
Direct-to-video short. Planned for Theatrical Release along with Mr. Peabody & Sherman.
Live action
Edit
Television
Edit
Year
Title
Role
Notes
1957
The Woody Woodpecker Show
Splinter / Knothead
1959
The Huckleberry Hound Show
Mom
"Bear on a Picnic" (Yogi Bear segment)
1959–1964
The Rocky and Bullwinkle Show (aggregated title)
Rocky J. Squirrel, Natasha Fatale, Nell Fenwick, Additional Characters
Original titles: "Rocky and His Friends", "The Bullwinkle Show"
1959–1960; 1971–1972
Walt Disney's Wonderful World of Color
Radio Voices, Grandma Duck, Queen, Ma Beagle, Daisy Duck, additional voices
"Duck Flies Coop"
"This Is Your Life Donald Duck"
"Disney on Parade"
"Dad, Can I Borrow the Car"
1959
The Flintstones
Betty Rubble
Flintstones pilot The Flagstones (uncredited)
1960–1961
Mister Magoo
Mother Magoo
1960–1962
The Bugs Bunny Show
Granny / Witch Hazel
1961
The Yogi Bear Show
1961–1962
The Alvin Show
Daisy Bell, Reporter, Additional voices
1961–1962
Calvin and the Colonel
Woman, Thief, Nancy, Chiquita, Operator
"The Television Job"
"Cloakroom"
"Calvin's Glamour Girl"
"Nephew Newton's Fortune"
1963
Fractured Flickers
Various characters
1963
Beetle Bailey
Bunny / WAC Soldiers
1963
Krazy Kat
Krazy Kat / Mrs. Kwak-Kwak
1963
The Twilight Zone
Talky Tina
"Living Doll"
uncredited
1963–1964
The Flintstones
Grandma Dynamite, Peaches, Nurse #1, Nurse #2, Granny Hatrock, Secretary, Dinosaur #2, Monkey
"Foxy Grandma"
"The Dress Rehearsal"
"The Bedrock Hillbillies"
1964
The Famous Adventures of Mr. Magoo
1965–1970
DoDo, The Kid from Outer Space
How, Why
1966
The Road Runner Show
Various Characters
1966
Dr, Seuss's How the Grinch Stole Christmas
Cindy Lou Who
TV special
1966–1969
The Super 6
Bubbles
1967
Lost in Space
Gundermar
Voice
"The Questing Beast" Uncredited
1967
Birdman and the Galaxy Trio
Medusa
"The Empress of Evil"
1967
George of the Jungle
Ursula, Marigold
1967–1968
Off to See the Wizard
Dorothy Gale, Wicked Witch of the West
1968
The Inspector
Edna, Melody Mercurochrome
"Le Ball and Chain Gang", "French Freud"
1968
The Bugs Bunny/Road Runner Hour
various characters
1968
The Little Drummer Boy
Aaron's Mother
TV special
1968
Mouse on the Mayflower
TV special
1969
The Pink Panther Show
additional voices
episode: Pinto Pink/Le Pig-al Patrol/In The Pink
1969
Scooby-Doo, Where Are You!
Gypsy Fortune Teller
"A Gaggle of Galloping Ghosts"
1969
The Pogo Special Birthday Special
Pogo, Hepzibah
TV special
1969
Frosty the Snowman
Teacher, Karen, Additional voices
TV short
1969-1970
The Dudley Do-Right Show
Nell Fenwick, Additional voices
TV Series
1970
Horton Hears a Who!
Jane Kangaroo, Mother Who, Baby Who, Additional voices
TV short
1972
The Thanksgiving That Almost Wasn't
TV special
1974
These Are the Days
1975
Rikki-Tikki-Tavi
Nagaina the Cobra, Teddy's Mom, Darzee's Wife
TV special
1975
The Hoober-Bloob Highway
Additional voices
TV special
1975
The White Seal
Mackah
TV special
1976
Mowgli's Brothers
Mother Wolf
TV special
1976
The Pink Panther Laugh and a Half Hour and a Half Show
Various Characters
1976
The Sylvester & Tweety Show
Various Characters
1977
Bugs Bunny's Easter Special
Granny
TV special
1978
Fabulous Funnies
Broom-Hilda, Oola, Hans, Additional voices
1978
Bugs Bunny's Howl-oween Special
Witch Hazel
TV short
1978
The Bugs Bunny/Road Runner Show
Various Characters
1978
Raggedy Ann and Andy in The Great Santa Claus Caper
Raggedy Ann and Comet
TV special
1979
Raggedy Ann and Andy in The Pumpkin Who Couldn't Smile
Raggedy Ann, Aunt Agatha, Neighbor
Credited as Mrs. Hobart Donavan for Aunt Agatha
1979
Bugs Bunny's Looney Christmas Tales
Mrs. Claus, Clyde Bunny
TV special
1979
Bugs Bunny's Valentine Special
Additional voices
TV special
1979
Bugs Bunny's Thanksgiving Diet
Millicent / Attractive Rabbit
TV special
1979
The Bugs Bunny Mother's Day Special
Granny
1980–1982
Heathcliff
Grandma, Sonja, Crazy Shirley, Iggy, Marcy, Muggsy, Princess
1981
Faeries
Hag
TV special
1981–1983
Spider-Man and His Amazing Friends
Aunt May Parker, Crime Computer, Judy
1981
A Chipmunk Christmas
Mrs. Waterford / Mrs. Claus
TV special
1981–1989
The Smurfs
Jokey Smurf, Mother Nature, Additional voices
1982
The Incredible Hulk
Additional Voices
1982
My Smurfy Valentine
TV special
1982
The Smurfs Springtime Special
Jokey Smurf / Mother Nature
TV special
1982
The Adventures of Curious George
Narrator
1982
The Smurfs Christmas Special
Jokey Smurf
TV special
1983–1984
Alvin and the Chipmunks
Additional Voices
1985
Pound Puppies
Mother Superior, Old Woman
TV special
1985
The Bugs Bunny/Looney Tunes Comedy Hour
Various characters
1985
A Chipmunk Reunion
Vinny
Uncredited
1985
The Jetsons
Lady at Gas Station, Telephone Operator
"Little Bundle of Trouble"
1985–1991
Disney's Adventures of the Gummi Bears
Grammi Gummi, Dragon, Additional voices
1986
The Bugs Bunny and Tweety Show
Various characters
1986–1987
Teen Wolf
Grandma Howard, Mrs. Seslick
1986–1988
Foofur
Additional voices
1987
Tis The Season to Be Smurfy
Jokey Smurf
TV special
1987–1988
The Flintstone Kids
Grandma Cavemom
3 episodes
1987–1990
DuckTales
Ma Beagle / Magica De Spell / Mrs. Featherb / additional voices
1988
Denver, the Last Dinosaur
Bertha
1988
A Pup Named Scooby-Doo
Constance McSnack
"Wanted Cheddar Alive"
1989
Slimer! and the Real Ghostbusters
Mrs. Dweeb
2 episodes
1990
Tom and Jerry Kids Show
Witch
"Doom Manor"
1990
The Simpsons
Happy Little Elf, Rubber Baby Buggy Bumper Babysitting Service Receptionist
"Some Enchanted Evening"
1990–1991
Tiny Toon Adventures
Granny
1990–1993
Garfield and Friends
Various characters
1991
Garfield Gets a Life
Mona, Librarian
TV special
1991
Bugs Bunny's Lunar Tunes
Additional voices
TV special
1991
Married... with Children
Voice of Scary Mary
Episode "God's Shoes"
1992
The Plucky Duck Show
Granny
1993
All-New Dennis the Menace
Martha Wilson
1993
Rugrats
Blocky, Svetlana the Spy
"Sour Pickles"
1993
2 Stupid Dogs
Red Riding Hood's Grandmother
2 episodes
1993
Bonkers
Ma Barker
"Calling All Cars"
1995
Weird Science
Baby Ruth, Tammy
Voice role
Live-action television series
1995
Tiny Toons' Night Ghoulery
Witch Hazel
TV special
1995–2000
Sylvester and Tweety Mysteries
Granny, Witch Hazel
Annie Award for Outstanding Individual Achievement for Voice Acting by a Female Performer in an Animated Television Production (1996–1997)
1996
Cave Kids
Rat
"Soap Bubble Dreams"
1996
The Bugs n' Daffy Show
Various Characters
2001
Family Guy
Rocky J. Squirrel
"The Thin White Line"
2001–2006
Baby Looney Tunes
Granny
2005
The Powerpuff Girls
Madame Argentina
"I See a Funny Cartoon in Your Future"
2005
Duck Dodgers
Lezah the Wicked
"M.M.O.R.P.D."
2009
The Marvelous Misadventures of Flapjack
Ruth, Kid, Kelly, Kelly's Mother, K'nuckles' Kindergarten Teacher
"Bubbie's Tummy Ache"
"Flapjack Goes to a Party"
2011
The Garfield Show
Mrs. Cauldron, Additional voices
Daytime Emmy Award for Outstanding Performer In An Animated Program (2012)
2011–2014
The Looney Tunes Show
Granny
Video games
Edit
References and external links
Edit
Cite error: <ref> tags exist, but no <references/> tag was found
Community content is available under
CC-BY-SA
unless otherwise noted.