House of the Dragon Trailer - The Loop
Play Sound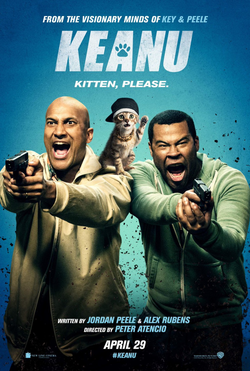 Kitten, please.
Directed By
Peter Atencio
Produced By
Keegan-Michael Key
Jordan Peele
Peter Principato
Paul Young
Joel Zadak
Written By
Jordan Peele
Alex Rubens
Edited By
Nicholas Monsour
Cinematography
Jas Shelton
Music By
Steve Jablonsky
Nathan Whitehead
Studio
New Line Cinema
The Sifi Company
Cindylou
Monkeypaw Productions
Release Date
March 13, 2016 (SXSW)
April 29, 2016 (United States)
Rating
Keanu is a 2016 American action comedy film directed by Peter Atencio and written by Jordan Peele and Alex Rubens. The film stars Keegan-Michael Key, Jordan Peele, Method Man, Nia Long and Will Forte. The film premiered at the South by Southwest Festival on March 13, 2016, and was released in North America by Warner Bros. on April 29, 2016.
Plot
Recently dumped by his girlfriend, slacker Rell (Jordan Peele) finds some happiness when a cute kitten winds up on his doorstep. After a heartless thief steals the cat, Rell recruits his cousin Clarence (Keegan-Michael Key) to help him retrieve it. They soon learn that a thug named Cheddar (Method Man) has the animal, and he'll only give it back if the two men agree to work for him. Armed with guns and a gangster attitude, it doesn't take long for the hapless duo to land in big trouble.
Cast
Videos
Images