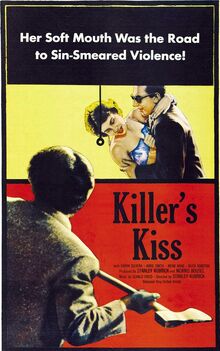 Killer's Kiss is a 1955 film noir directed, co-produced, and co-written by Stanley Kubrick. He also was the cinematographer and editor of the film. Although some reviews were mixed, generally reviews were more positive than Kubrick's first film (Fear and Desire).
Plot
Boxer Davy Gordon meets nightclub dancer Gloria Price. The two fall in love; but Gloria's ex-employer Vince Rapallo has a love for Gloria and doesn't want to let a boxer steal his love desire. His anger leads to murder, a police manhunt, and revenge. Davy and Rapallo eventually end up going one-on-one to fight.
Awards
In 1959, Kubrick won the Best Director Prize at the Locarno International Film Festival.