Wiki Targeted (Entertainment)
Play Sound
Directed By
Fabrizio De Angelis
Produced By
Fabrizio De Angelis, Camillo Teti
Written By
Fabrizio De Angelis, Dardano Sacchetti
Screenplay By
Fabrizio De Angelis, Dardano Sacchetti
Story By
Fabrizio De Angelis, Dardano Sacchetti
Cast
Richard Anthony Crenna, Pietro Genuardi, John Harper, Sherrie Rose, Ann Douglas, Ennio Girolami
Edited By
Vincenzo Tomassi
Cinematography
Federico Del Zoppo
Distributed By
X-Rated KultDVD
Release Date
30 July 1989 (Italy)
Rating

Killer Crocodile is a 1989 Italian natural horror film directed by Fabrizio De Angelis and starring Richard Anthony Crenna, Pietro Genuardi, John Harper, Sherrie Rose, Ann Douglas and Ennio Girolami. The film was followed by a sequel, Killer Crocodile 2 in 1990.
A group of friends investigating the illegal dumping of toxic chemicals in a swamp must defend themselves against an abnormally huge crocodile, which has become more aggressive than normal due to prolonged exposure to the toxic waste.
Richard Anthony Crenna as Kevin
Julian Hampton as Mark
John Harper as Bob
Sherrie Rose as Pamela
Ann Douglas as Jennifer
Thomas Moore as Joe
Van Johnson as Judge
Wohrman Williams as Foley
The film was shot back-to-back with its Sequel Killer Crocodile 2. It was filmed on 35mm film.
Killer Crocodile was released on DVD by X-Rated KultDVD in Germany.
Giannetto De Rossi who was the make up artist in Killer Crocodile directed the sequel Killer Crocodile 2.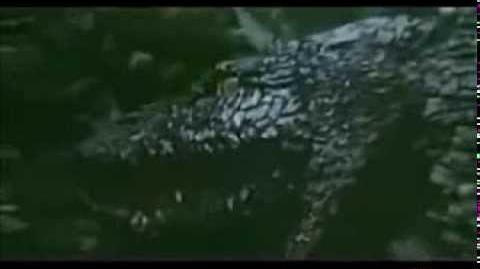 Community content is available under
CC-BY-SA
unless otherwise noted.