Directed By
Andrew Dominik
Produced By
Dede Gardner
Anthony Katagas
Brad Pitt
Paula Mae Schwartz
Steve Schwartz
Written By
Andrew Dominik
Cast
Brad Pitt
Ray Liotta
James Gandolfini
Richard Jenkins
Scoot McNairy
Ben Mendelsohn
Sam Shepherd
Music By
Rachel Fox
Marc Streitenfeld
Studio
Plan B Entertainment
Distributed By
The Weinstein Company
Release Date
November 30, 2012
Rating

Killing Them Softly is an American crime film directed by Andrew Dominik based on the 1974 novel Cogan's Trade by George V. Higgins. On May 22, 2012, the film premiered in competition for the Palme d'Or at the 2012 Cannes Film Festival, receiving positive early reviews.
In 2008 during the recession and presidential election campaign Johnny "Squirrel" Amato organizes the armed robbery of a high stakes, mob-protected, poker game in New Orleans. Squirrel brings his associate Frankie to carry out the robbery but does not give him the details initially.
Frankie has spent time in prison and brings in an associate named Russel, an Australian ex-patriate. Russell is a small time criminal with a loud mouth who irritates Squirrel and Squirrel insists on taking his time over the decision. A week later Russel refuses to meet with Squirrel again, reasoning that it is a waste of time and will not change his decision. Frankie goes alone to the meeting. He is initially reluctant to take the job but Amato explains that the blame will fall with the game's organiser Mark Trattman, as he arranged for the robbery of his own game years earlier. At that time Trattman initially maintained his innocence despite receiving a beating from an enforcer named Dillon and his associate Kenny Gill. When Trattman eventually admits the trangression while drunk years later he was given a pass. Frankie agrees to take the job and Squirrel signs off on involving Russell.
The robbery goes without complications despite the amateur's approach; Russell brings marigold gloves and a dangerous sawed-off shotgun. Russell plans to use his share of the profits to set himself up as a drug dealer along with his other income from stealing and selling purebred dogs. He travels to Florida to sell the dogs and while there discusses his plans with Kenny Gill, revealing the details of the robbery and asking Gill to partner with him in the drug buy. When he returns he gets high with Frankie and reveals his indiscretion.
Organized crime enforcer Jackie Cogan is brought in through a contact named Driver to investigate the robbery as Dillon has been incapacitated in an unrelated assault. Cogan believes that because of the cloud of suspicion over Trattman after the second robbery he will have to be killed regardless of whether he was involved. Driver explains that the mob higher ups have ordered a severe beating. Cogan is irritated and sees the beating as cruel and unnecessary as Trattman's murder is inevitable but nevertheless arranges for his associate to carry it out. He hands the task on to brothers Steve and Barry Caprio.
Cogan learns that Squirrel is behind the robbery from Gill. Squirrel knows Cogan and he is concerned this will complicate the hit. Cogan requests that they bring in Mickey Fallon for the assignment. When Mickey arrives he drinks heavily and tell Cogan he has violated his parole to travel for the job.
Cogan visits Mickey's hotel room to discuss the plan and finds that he has continued drinking and has hired a prostitute. He tries to get Mickey to focus on the job but he is belligerent. Cogan realizes that Mickey is no longer up to the job. He lets Driver know about the additional complication and arranges for a prostitute to bait Mickey into a fight so that he will be arrested and returned to prison with no repercussions for them. Driver and Cogan bicker about the additional difficulty.
Cogan recruits Gill as his driver. They follow Trattman and Cogan shoots and kills him in a drive by shooting at a red light.
Russell is arrested while collecting his drugs from a storage locker. Cogan tracks Frankie down at a bar and offers him a choice between being killed and assisting in the killing of Squirrel. Frankie vacillates but his self-interest wins out. He leads Cogan to a residential area where Squirrel is meeting his girlfriend. Cogan waits for Squirrel to leave and then murders him as he returns to his car. He has Frankie drive him back to his own car, allowing Frankie to believe that he will be allowed to leave. Upon arrival Cogan shoots Frankie and leaves his body in his car in a parking garage.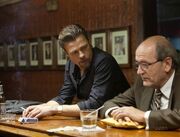 Cogan returns to New Orleans to collect his payment from Driver. They meet in a bar at the same time as Barack Obama is giving his election victory speech. Cogan is prescient about the wording of the speech but unrelentingly cynical about society; viewing America solely as a business. He is upset that he has only received £30,000 when he expected £15,000 per victim. Driver cites the recession and claims that Dillon worked for £10,000 per hit. Cogan relays that Dillon died that morning and insists on receiving the full amount.
Production
Edit
Killing Them Softly is based on the 1974 novel Cogan's Trade by George V. Higgins. The film was written and directed by Andrew Dominik. He chose to update the setting of the story, saying "as I started adapting it, it was the story of an economic crisis, and it was an economic crisis in an economy that was funded by gambling—and the crisis occurred due to a failure in regulation. It just seemed to have something that you couldn't ignore."
The project was first announced in November 2010 when Brad Pitt was reported to be in talks for the lead role. Pitt joined the project the following month, and production was scheduled to begin in Louisiana in March 2011. Additional roles were cast in early 2011. Dominik asked Pitt if he was interested in the role via a text message; he replied "yes" and the matter was settled over half an hour.
Production Stills
Edit
Related Links
Edit
Official site
Facebook
Twitter
IMDB

Community content is available under
CC-BY-SA
unless otherwise noted.