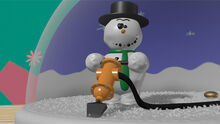 Knick Knack is an animated Pixar short film released in 1989. It was directed by John Lasseter.
Plot synopsis
Edit
Things like a flamingo, a skeleton, a pyramid, a cactus, 2 trees and a lady in a pool from Miami enjoy summer shame about the snowman stuck in his own home since he wanted to go out he decided to use some things to break out of his glass home. None of his things that he used was working then the glass home fell down and the snowman saw a door to get out and lands in a fish bowl then he sees a mermaid from Atlantis and now he's ready to kiss her but he's trapped again in his snowy glass home.
The film has been released in two versions, and each of these have been shown in both 3-D and 2-D.
It was originally shown in 3-D at the 2005 SIGGRAPH Animation Show. The original edition (though in conventional 2-D).
The film was completely rebuilt and re-rendered for release in theatres preceding Finding Nemo. In this version the girl on the "Miami" knick knack and the mermaid in the fish bowl have undergone a breast reduction, and the mermaid is now wearing a bra rather than just pasties, presumably to make the short more family friendly. This version is available on the Finding Nemo DVD set, the Pixar Shorts DVD, and through the iTunes Store. A 3-D version of the "small breasts" edition played to the public as a short attached to the 2010 Disney Digital 3-D release of Toy Story 3.
References to Knick Knack in other moviesEdit
External links
Edit
Community content is available under
CC-BY-SA
unless otherwise noted.