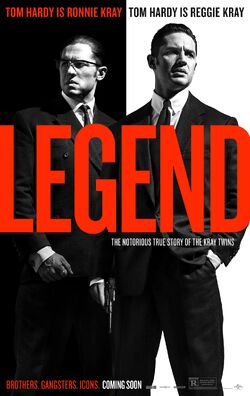 The notorious true story of the Kray twins
Directed By
Brian Helgeland
Produced By
Tim Bevan
Eric Fellner
Christopher Clark
Quentin Curtis
Brian Oliver
Written By
Brian Helgeland
Cast
Tom Hardy
Emily Browning
Colin Morgan
Studio
Working Title Films
Cross Creek Pictures
Distributed By
StudioCanal
(United Kingdom)
Universal Pictures
(United States)
Release Date
September 11, 2015 (UK)
October 2, 2015 (USA)
Book
The Profession of Violence: The Rise and Fall of the Kray Twins
by John Pearson
Legend is a British crime thriller film written and directed by Brian Helgeland. This film marks his return to adapted screenplays in the genre of crime since the conclusion of L.A. Confidential. The film is based on the book The Profession of Violence: The Rise and Fall of the Kray Twins by John Pearson, which deals with the rise and fall of the Kray twins; the relationship that bound them together, and charts their gruesome career to their downfall and imprisonment for life in 1969. Tom Hardy and Emily Browning star with Colin Morgan, David Thewlis, Christopher Eccleston, Chazz Palminteri, Tara Fitzgerald, and Taron Egerton featured in supporting roles.
The true story of the rise and fall of London's most notorious gangsters, Reggie and Ron Kray, both portrayed by Tom Hardy in an amazing double performance. Legend is a classic crime thriller taking us into the secret history of the 1960s and the extraordinary events that secured the infamy of the Kray twins.
Tom Hardy as Ronald & Reginald Kray
Emily Browning as Frances Shea
Colin Morgan as Frankie Shea
Christopher Eccleston as Leonard "Nipper" Read
Taron Egerton as Edward "Mad Teddy" Smith
David Thewlis as Leslie Payne
Aneurin Barnard as David Bailey
Paul Anderson as Albert Donoghue
Chazz Palminteri as Angelo Bruno
Community content is available under
CC-BY-SA
unless otherwise noted.