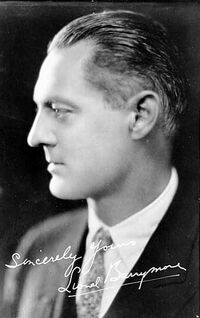 Herbert Lionel Blyth (April 28, 1878 in Philadelphia, Pennsylvania – November 15, 1954 in Van Nuys, California) was an American actor of stage, radio and film.
Biography
Edit
He was the elder brother of Ethel and John Barrymore. His parents were Maurice Barrymore and Georgiana Drew.
He started his stage career in the early 1900s. After many years spent in Paris, in 1907 he came back to Broadway, where he established his reputation as dramatic actor. He proved his talent in many plays as Peter Ibbetson (1917), The Copperhead (1918) and The Jest (1919).
In 1924 he left Broadway for Hollywood. In 1931 he won an Oscar for his role of an alcoholic lawyer in A Free Soul (1931), after having been nominated in 1930 for best director for Madame X. In 1930s and 1940s he made a lot of movies as grouchy, but usually sweet, elderly men in such films as The Mysterious Island (1929), Grand Hotel (with John), Rasputin and the Empress (with John and Ethel), Dinner at Eight (the film also featured John, but they had no scenes together), Captains Courageous, You Can't Take It with You, Duel in the Sun, and Key Largo. Perhaps his best known role was as Mr. Potter, the miserly banker in It's a Wonderful Life.
He played the irascible Doctor Gillespie in a series of Doctor Kildare movies in the 1930s and 1940s, and the title role in the 1940s radio series Mayor of the Town. Years later, after breaking his hip twice, he was confined to a wheelchair, but still acted.
Barrymore died from a heart attack, and is entombed in the Calvary Cemetery in East Los Angeles, California.
He has a star on the Hollywood Walk of Fame at 1724 Vine Street.
He is the grand-uncle of actress Drew Barrymore.
Selected filmography
Edit
Film quotes
Edit
"Look at you. You used to be so cocky. You claimed you were going to go out and conquer the world. You once called me "a warped, frustrated, old man!" Who are you but a warped, frustrated young man, crawling in here on your hands and knees begging for help. No securities, no stocks, no bonds. Nothin' but a miserable little $500 equity in a life insurance policy. You're worth more dead than alive." - Lionel Barrymore as Mr. Potter in It's a Wonderful Life
External links
Edit
Community content is available under
CC-BY-SA
unless otherwise noted.