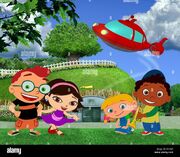 Our Huge Adventure is a 2005 American direct-to-video interactive animated musical adventure film that was released on August 23, 2005 by Walt Disney Home Entertainment and Playhouse Disney. The film was followed by and serves as the pilot of the TV series Little Einsteins.
The whole feature movie is split into two episodes at the end of Season 1 of Little Einsteins.
As a requirement for the use of the Einstein name and trademark, the Baby Einstein Company paid royalties to Corbis, which acts on behalf of the estate of physicist Albert Einstein ("Einstein" & "Albert Einstein" being licensed trademarks of The Hebrew University of Jerusalem).
Plot
Part 1
The adventure begins when the Little Einsteins hear beautiful musical playing from afar and seek out its source: a leaf-munching caterpillar with whom they journey toward a new life as a butterfly. Along the way, they ride a musical roller-coaster, encounter a musical storm, and meet varying situations that call into play their skills and interests.
Part 2
When everybody but Butterfly gets an invitation to the family migration party, the team knows something is wrong. They discover that Butterfly's invitation could've gotten lost! The team will go to several places and explore many different areas but will they still be able to find Butterfly's missing invitation?
Voice cast
Natalia Wójcik as Annie
Jesse Schwartz as Leo
Aiden Pompey as Quincy
Erica Huang as June
Singing voices
Harrison Chad
Jesse Goldberg
Emma Straus
Philip Trencher