Lucy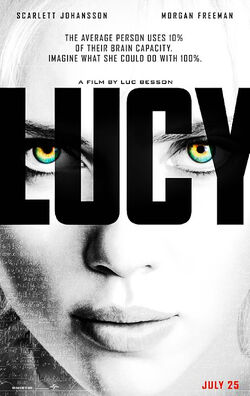 Cast
Scarlett Johansson
Morgan Freeman
Amr Waked
Choi Min-sik
Cinematography
Thierry Arbogast
Distributed By
Universal Pictures
Release Date
July 25, 2014 (USA)
August 6, 2014 (France)
Lucy, a French-American film, is about a woman who is accidentally caught in a dark deal but then turns the tables on her captors and transforms into a merciless warrior evolved beyond human logic. It is set to premiere in the U.S. on July 25, 2014.
In a world run by the mob, street gangs, drug addicts and corrupt cops, Lucy lives in Taipei, Taiwan and is forced to work as a drug mule for the mob. When a drug implanted in her body inadvertently leaks, her entire system is changed, and she gains the ability to use more than the normal 10% of her brain's capacity. She is thus changed into a superhuman. With the change in her body, Lucy can absorb information instantaneously, is able to move objects with her mind, and can choose not to feel pain or other discomforts.
Scarlett Johansson as Lucy
Morgan Freeman as Professor Norman
Choi Min-sik as Kang
Amr Waked
Pilou Asbaek
Mason Lee
Analeigh Tipton
Frédéric Chau
Claire Tran
Christophe Tek
Jan Oliver Schroeder
Yvonne Gradelet
Paul Chan
Michél Raingeval
Community content is available under
CC-BY-SA
unless otherwise noted.