Name
Luke Cunningham Wilson
Birthplace
Dallas, Texas, United States
Birth date
September 21, 1971
Active Years
1994–present

Luke Cunningham Wilson (born September 21, 1971) is an American actor known for his roles in films such as Blue Streak, Legally Blonde and The Royal Tenenbaums.
Wilson was born in Dallas, Texas, a son of Robert Andrew Wilson, an advertising executive and previously an executive at KERA, a public television station, and Laura (Cunningham) Wilson, a photographer. His family, originally from Massachusetts, is of Irish Catholic descent. All three Wilson boys attended St. Mark's School of Texas. According to Owen, Luke was voted class president the first year he attended St. Mark's.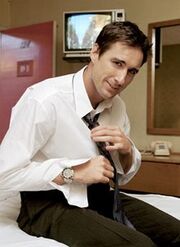 Wilson's acting career began with the lead role in the short film Bottle Rocket in 1994, 
which was co-written by his older brother Owen Wilson and director Wes Anderson. It was remade as a feature-length film in 1996. After moving to Hollywood with his two brothers, he was cast opposite Calista Flockhart in Telling Lies in America and made a cameo apperance in the film-within-the-film of Scream 2, both in 1997. Wilson filmed back-to-back romantic films in 1998, opposite Drew Barrymore in Best Men about a group of friends who pull off a heist on their way to a wedding, and Home Fries, about two brothers interested in the same woman for different reasons. He played the physician beau of a schoolteacher in Rushmore (also 1998), also directed by Anderson and co-written by brother Owen. In 1999, Blue Streak was released featuring Wilson as detective Carlson.
Add here
Community content is available under
CC-BY-SA
unless otherwise noted.