Line 87:
Line 87:
 

==Trailers==

 

==Trailers==

 

<gallery widths="300" hideaddbutton="true" position="center" spacing="small" captionalign="center" bordercolor="#000000">

 

<gallery widths="300" hideaddbutton="true" position="center" spacing="small" captionalign="center" bordercolor="#000000">

−

File:Mad Max Fury Road - Comic-Con First Look HD|Comic-Con First Look

+

File:Mad Max Fury Road - Comic-Con First Look HD

 
+

File:Mad Max Fury Road - Trailer 1

 

</gallery>

 

</gallery>

 
 
---
Revision as of 21:43, 10 December 2014
This article or section contains information about scheduled or expected future events.
It may contain tentative information; the content may change as the event approaches and more information becomes available.
Directed By
George Miller
Produced By
Doug Mitchell
Iain Smith
P.J. Voeten
Written By
George Miller
Brendan McCarthy
Nick Lathouris
Cast
Tom Hardy
Charlize Theron
Hugh Keays-Byrne
Nathan Jones
Zoë Kravitz
iOTA - Coma-Doof Warrior
Mel Gibson (cameo)
Cinematography
John Seale
Release Date
May 15, 2015
Mad Max: Fury Road is an upcoming 2015 film, the fourth installment in the action movie Mad Max franchise and will succeed the events of Mad Max: Beyond Thunderdome. The film will be directed by George Miller, and stars Tom Hardy in the pivotal role of Max Rockatansky, with Charlize Theron co-starring in the role of Imperator Furiosa. Mel Gibson has a confirmed cameo playing a character simply called "Drifter."[1]
Plot
Mad Max: Fury Road takes place shortly after Mad Max: Beyond Thunderdome. It follows the further adventures of Max Rockatansky.
According to George Miller: "Mad Max is caught up with a group of people fleeing across the Wasteland in a War Rig driven by the Imperator Furiosa. This movie is an account of the Road War which follows. It is based on the Word Burgers of the History Men and eyewitness accounts of those who survived." [2]
A source from Badassdigest, who has seen an early cut of the movie, claims that the majority of the story features one giant chase sequence (or Road war in the Mad Max lore) [3]
Development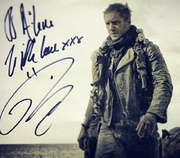 Initially conceived shortly after Mad Max: Beyond Thunderdome, George Miller's Mad Max: Fury Road or Mad Max 4 failed to launch on multiple occasions. Miller announced a screenplay had been written in 2003, but it was put on hiatus at the beginning of the Iraq war for fear its release would be insensitive. Miller confirmed continued interest regardless in 2006 and again in 2009, when he finally announced the film would begin shooting in 2012 and would release sometime in 2013. For a unknown reason, the date was changed to 2014 in January 2013, and has since been changed again to the current (and presumably tentative) May 15, 2015.[1][4]
Production timeline
Production video
Confirmed cast
Trailers
Image Gallery
References