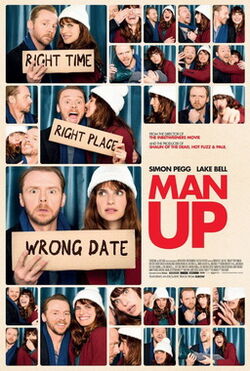 Right time. Right place. Wrong date.
Produced By
James Biddle
Nira Park
Rachel Prior
Cast
Simon Pegg
Lake Bell
Rory Kinnear
Ken Stott
Harriet Walter
Olivia Williams
Sharon Horgan
Cinematography
Andrew Dunn
Musical Score
Dickon Hinchliffe
Studio
Anton Capital Entertainment
Big Talk Productions
Distributed By
StudioCanal
Release Date
April 19, 2015 (Tribeca)
May 29, 2015(UK)
November 23, 2015 (US)
Rating

Man Up (2015) is a romantic comedy directed by Ben Palmer from a screenplay written by Tess Morris. Starring Simon Pegg and Lake Bell, the film is currently scheduled for theatrical release in North America November 23, 2015.
A single 34-year-old woman (Bell), after being mistaken for a stranger's blind date, finds the perfect boyfriend in a 40-year-old divorcee (Pegg).
Lake Bell as Nancy
Simon Pegg as Jack
Sharon Horgan as Elaine
Rory Kinnear as Sean
Ken Stott as Bert
Harriet Walter as Fran
Ophelia Lovibond as Jessica
Olivia Williams as Hilary
Stephen Campbell Moore as Ed
Henry Lloyd-Hughes as Daniel
Dean-Charles Chapman as Harry
Community content is available under
CC-BY-SA
unless otherwise noted.