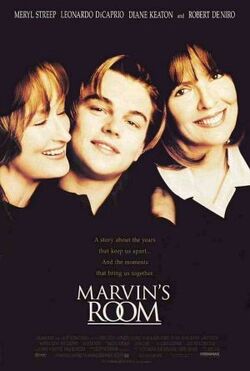 Marvin's Room
is a 1996 film based on the play of the same name by Scott McPherson. It stars
Meryl Streep
,
Leonardo DiCaprio
,
Diane Keaton
,
Robert De Niro
, Hume Cronyn, Gwen Verdon, Hal Scardino and Dan Hedaya. The film received one
Academy Award
nomination for Best Actress for Diane Keaton.
A man who had a stroke 17 years ago is left incapacitated and bed-ridden. He has been cared for by his daughter Bessie (Diane Keaton) in their Florida home, and totally ignored by his other daughter, Lee (Meryl Streep), who moved to Ohio with her husband 20 years ago and has never contacted her family. Now, however, Bessie's doctor has informed her that she has leukemia and needs a bone marrow transplant and she turns to her sister for help. Lee, in turn, turns to her son Hank (Leonardo DiCaprio), who has been committed to a mental institution for setting fire to his mother's house. When Lee finds that she may have to take over her father's care, she at first begins shopping around for nursing homes. Eventually, however, the once-estranged family grows close.
Community content is available under
CC-BY-SA
unless otherwise noted.