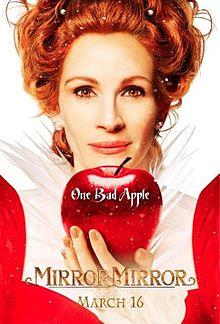 One Bad Apple...
Produced By
Bernie Goldmann
Ryan Kavanaugh
Brett Ratner
Ajit Singh
Nico Soultanakis
Written By
Melissa Wallack
Jason Keller
Distributed By
Relativity Media, Hopeless Films (USA)
Studiocanal (UK)
Release Date
March 30, 2012

Mirror Mirror is an American fantasy/fairytale film starring Julia Roberts and Lily Collins. It is based on the Gregory McGuire novel of the same name. It is based on the Snow White fairytale, like the films Snow White and the Seven Dwarfs and Snow White and the Huntsman.
In Mirror, Mirror the evil queen (Julia Roberts) desires to win the heart of the prince (Armie Hammer) but when she finds out Snow White's beauty will win him over, she banishes Snow White (Lily Collins) to a forest that contains a man-eating beast. Snow White must team up with the seven dwarves to gain control of her kingdom.
Julia Roberts as Queen Clementianna
Lily Collins as Snow White
Armie Hammer as Prince Andrew Alcott
Nathan Lane as Brighton
Sean Bean as The King
Mare Winningham as Baker Margaret
Michael Lerner as The Baron
Robert Emms as Renbock
Mark Povinelli as Half-Pint
Danny Woodburn as Grimm
Jordan Prentice as Napoleon
Ronald Lee Clark as Chuckles
Sebastian Saraceno as Wolf
Martin Klebba as Butcher
Joe Gnoffo as Grub
Photo Gallery
Edit
Community content is available under
CC-BY-SA
unless otherwise noted.