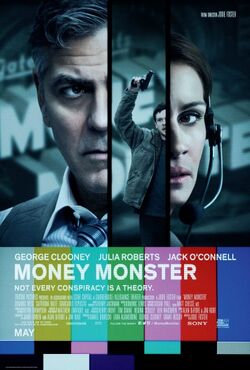 Not every conspiracy is a theory.
Screenplay By
Alan Di Fiore
Jim Kouf
Jamie Linden
Cinematography
Matthew Libatique
Studio
The Allegiance Theater
IM Global
Smoke House Pictures
Release Date
May 12, 2016 (Cannes)
May 13, 2016 (United States)
Rating

Money Monster is a 2016 American crime thriller drama film directed by Jodie Foster and written by Alan Di Fiore, Jim Kouf and Jamie Linden. The film stars George Clooney, Julia Roberts, Jack O'Connell, Dominic West, Caitriona Balfe and Giancarlo Esposito. In August 2015, Sony Pictures Entertainment set the film for an April 8, 2016 release. The film was later released on May 13, 2016 by TriStar Pictures.
Lee Gates (George Clooney) is a Wall Street guru who picks hot stocks as host of the television show "Money Monster." Suddenly, during a live broadcast, disgruntled investor Kyle Budwell (Jack O'Conell) storms onto the set and takes Gates hostage. He tells Lee that he lost everything on one of his tips. As Gates tries to plead with Kyle, he's also using an earpiece to communicate with his longtime producer in the control room. Together, they must figure out a way to defuse the situation and disarm the angry young man.
Money Monster has received mixed reviews from critics. On Rotten Tomatoes, the film has a rating of 55% based on 135 reviews, with an average rating of 5.8/10. The site's critical consensus reads, "Money Monster's strong cast and solidly written story ride a timely wave of socioeconomic anger that's powerful enough to overcome an occasionally muddled approach to its worthy themes." On Metacritic, the film has a score of 54 out of 100, based on 39 critics, indicating "mixed or average reviews". Audiences polled by CinemaScore gave the film an average grade of "B+" on an A+ to F scale.
Community content is available under
CC-BY-SA
unless otherwise noted.