Welcome to Movie

pedia
---
We are a collaborative encyclopedia about current movies, as well as those of the past and those that are planned or in production. Our goal is to collaborate with other fans in order to build a reliable, accurate resource with as much detailed information as possible about movies. All are welcome to join in and contribute here, so long as edits are constructive, discussions are positive, and both are relevant to the film industry.

We are currently housing 27,469 articles, and need YOU to help us expand and add articles to this wiki!
For starters, please
sign up
to create a FREE personal account, or
log in
if you already have one.
Notice
---
Do not copy/paste articles onto this site directly from Wikipedia (or any other site). This wiki is not intended to be a "mirror site" of other sites.
New article pages should have very few or no redlinks (links to uncreated pages), and no edit should ever increase the number of redlinks on any given article.
Do not add "fan-fiction" style articles, or ideas for films. Our goal is to cover film projects that exist and have been released or are currently in production.
---
If you want to create an article relating to a film, or something related with the film industry, use the box below. (For films, please use Infobox film.)
---
---
When it comes to the rating system, please add the correct MPAA ratings icons seen below to movie infoboxes using the templates found HERE.
---
Please keep in mind that over 50% of wiki visitors access content via mobile platforms such as tablets and smartphones. Some custom templates may not properly show on mobile devices. To make sure everything looks great to all visitors, follow our
best practices
.
Featured Poster: Top Gun: Maverick
---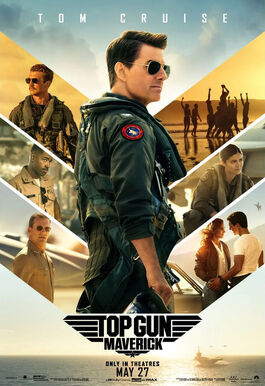 Blog posts
---
Blogs

David464
•
Star Wars, épisode III : La Revanche des Sith [2005]
Star Wars, épisode II : L'Attaque des clones [2002]
Harry Potter et la Coupe de feu [2005]
Le Seigneur des anneaux : Le Retour du roi [2003]
Harry Pot…

David466
•
Un groupe de jouets anthropomorphes, qui assument l'absence de vie autour des humains, s'apprêtent à emménager dans une nouvelle maison avec leur propriétaire Andy Davis, sa sœur Molly et leur mère c…
See more >