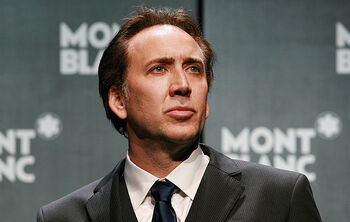 Nicolas Kim Coppola (born January 7, 1964), known professionally as Nicolas Cage is an American actor, nephew of director Francis Ford Coppola.
Nicolas Kim Coppola was born on January 1964 in Long Beach, California. His father was August Coppola, a literature professor, and his mother Joey Vogelsang, and cheographer. He is of 50% Italian, 25% Polish, 19% German and 6% English descent, and was raised Catholic. TBA
Smokey in Rumble Fish (1983)
Vincent Dwyer in The Cotton Club (1984)
Charlie Bodell in Peggy Sue Got Married (1986)
H. I. McDonnough in Raising Arizona (1987)
Peter Loew in Vampire's Kiss (1988)
Enrico Silvestri in Time to Kill (1989)
Sailor Ripley in Wild at Heart (1990)
Michael Williams in Red Rock West (1993)
Doug Chesnic in Guarding Tess (1994)
Bill Firpo in Trapped in Paradise (1994)
Ben Sanderson in Leaving Las Vegas (1995)
Dr. Stanley Godspeed in The Rock (1996)
Cameron Poe in Con Air (1997)
Castor Troy / Sean Archer in Face/Off (1997)
Seth in City of Angels (1998)
Rick Santoro in Snake Eyes (1998)
Tom Welles in 8mm (1999)
Frank Pierce in Bringing Out the Dead (1999)
Memphis Raines in Gone in 60 Seconds (2000)
Jack Campbell in The Family Man (2000)
Captain Antonio Corelli in Captain Corelli's Mandolin (2001)
Ben Gates in National Treasure (2004), National Treasure: Book of Secrets (2007)
Yuri Orlov in Lord of War (2005)
Cris Johnson in Next (2007)
Jon Koestler in Knowing (2009)
Terence McDonagh in The Bad Lieutenant: Port of Call - New Orleans (2009)
Baltazar Blake in The Sorcerer's Apprentice (2010)
Johnny Blaze in Ghost Rider: Spirit of Vengeance (2012)
The Janitor in Willy's Wonderland (2021)
Community content is available under
CC-BY-SA
unless otherwise noted.