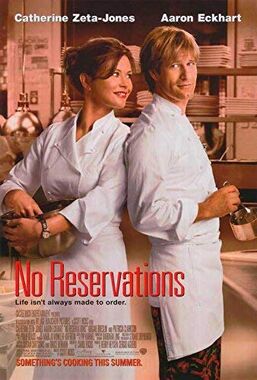 No Reservations is a 2007 American romantic comedy-drama film directed by Scott Hicks. Starring Catherine Zeta-Jones, Aaron Eckhart, and Abigail Breslin, the screenplay by Carol Fuchs is an adaptation of an original script by Sandra Nettelbeck, which served as the basis for the 2001 German film Mostly Martha, and revolves around a hard-edged chef whose life is turned upside down when she decides to take in her young niece following a tragic accident that killed her sister. Patricia Clarkson, Bob Balaban, and Jenny Wade co-star, with Brían F. O'Byrne, Lily Rabe, and Zoë Kravitz—appearing in her first feature film—playing supporting roles.
The film received a mixed reception by critics, who found it "predictable and too melancholy for the genre", resulting in a 41% overall approval rating from Rotten Tomatoes. Upon its opening release on July 27, 2007, in the United States and Canada, No Reservations became a moderate commercial success: The film grossed $12 million in its opening weekend, eventually grossing over $43 million at the domestic box-office and over $92 million worldwide. Breslin was nominated for a Young Artist Award for her performance.
Community content is available under
CC-BY-SA
unless otherwise noted.