Oblivion is a sci-fi thriller movie coming out in August 19, 2013. It stars Tom Cruise and Morgan Freeman.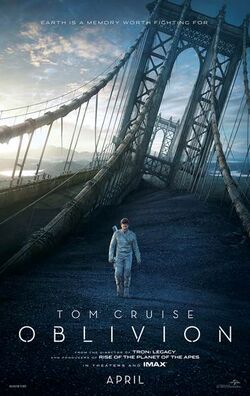 "Earth is a memory worth fighting for"
Directed By
Joseph Kosinski
Written By
William Monahan
Cast
Tom Cruise, Morgan Freeman
Release Date
April 19, 2013
A soldier is on a distant plant with one sole mission: Destroy whatever is left of the aliens that inhabit it. Sound simple enough, until he meets the one travelling person who might change what he thinks about the inhabitants, the place, the surrounding, but more importantly, himself.
Tom Cruise - Jack Harper
Morgan Freeman - Malcolm Beech
Olga Kurylenko - Julia
Nikolaj Coster-Waldau - Sykes
Zoe Bell - Kara
Melissa Leo - Sally
Andrea Riseborough - Victoria
James Rawlings - Survivor
Catherine Kim Poon - NASA Controller
Jaylen Moore - Radio Operator
Lindsay Clift
John L. Armijo - NASA Ground Control
Jordan Sudduth - Survivor
Andrew Breland - Survivor
Jeremy Sande - NASA Booster Engineer
Video Gallery
Edit
Community content is available under
CC-BY-SA
unless otherwise noted.