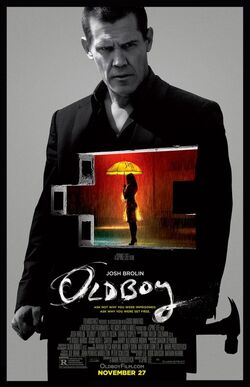 Ask not why you were imprisoned, aske why you were set free
Produced By
Roy Lee
Doug Davison
Nathan Kahane
Written By
Mike Protosevich
Edited By
Barry Alexander Brown
Cinematography
Sean Bobbitt
Distributed By
FilmDistrict
Release Date
November 27, 2013
Oldboy is a 2013 American thriller film directed by Spike Lee and written by Mark Protosevich. It is a remake of the 2003 South Korean film Oldboy, which is based on the Japanese manga with the same name.
Joe Doucett, an advertising executive is kidnapped and held prisoner for twenty years in solitary confinement. After he is suddenly released, he goes on a mission to find the person responsible for his imprisonment, later discovering that his life is still caught in conspiracy and torment.
Old Boy (オールド・ボーイ Ōrudo Bōi) is a manga series written by Garon Tsuchiya and illustrated by Nobuaki Minegishi.
In 2003, it was adapted into the award winning Korean film Oldboy by South Korean director Park Chan-wook. The film was a huge international success and went on to win various awards including the Grand Prix of the Jury at the 57th Cannes Film Festival awards ceremony.
In 2005, Dark Horse Comics bought the rights to make an English translation of the book for its customers worldwide. Volume 1 of this new translated series was released on July 5, 2006. The manga is composed of a total of eight volumes.
In 2008 Steven Spielberg acquired the rights for Old Boy manga to make a new film based on the original source material.
After he dropped out of production, Mandate Pictures stepped forward and announced that Spike Lee would be directing the film.
Reception
Edit
Some members of the press were given the chance to see a rough cut of the film that was over 2 hours long. Early reception was mostly positive.
Community content is available under
CC-BY-SA
unless otherwise noted.