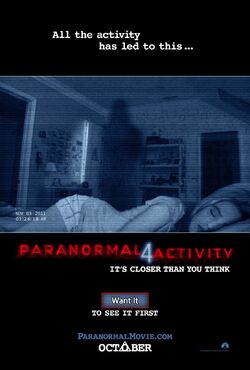 It's Closer Than You Think
Release Date
October 18, 2012
Rating
The fourth film in the supernatural franchise. It is a direct sequel to the first film, Paranormal Activity.
It has been five years since the disappearance of Katie and Hunter, and a suburban family witness strange events in their neighborhood when a woman and a mysterious child move in.
Katie Featherston as Katie
Kathryn Newton as Alice
Matt Shively as Alex
Brady Allen as Robbie
Alisha Boe as Tara
Tommy Miranda as Jackson
Aiden Lovekamp as Wyatt
Molly Ephraim as Ali Rey
Production
Edit
Paramount Pictures announced on January 2, 2012 that Paranormal Activity 4 was in the works. Information on the characters had been very little, stating that Brady Allen is set to play a character named Robbie. Katie Featherston will also reprise her role as Katie whilst still possessed from the ending of the first two films. Other cast and characters that will appear in the film have been kept extremely tightly under wraps in order for fans to not know the plot. Henry Joost and Ariel Schulman will return to direct the film.
On June 23, 2012, it was confirmed that the fourth film had begun filming. A trailer debuted on August 3 in front of Total Recall. The first theatrical trailer was released for the film on August 1, 2012. The trailer shows that it will be a sequel to Paranormal Activity 2, following the story of possessed Katie and kidnapped Hunter after their disappearance at the end of the second film. The movie will also feature a new scare technique of footage being shown from a laptop in a video chat, that the directors felt would rival the 'fan cam' from the previous movie and that because of it being familiar technology it was "built for a horror movie". The movie will also feature the Kinect and its technology.
300px
Trailer 1
Trailer 2
300px
Trailer 3
TV Spot "Unexpected"
Found Footage Clip 2
Related Links
Edit
Community content is available under
CC-BY-SA
unless otherwise noted.