Wiki Targeted (Entertainment)
Play Sound
Pig is a 2021 American thriller drama film co-written and directed by Michael Sarnoski in his directorial debut. It stars Nicolas Cage, Alex Wolff and Adam Arkin, and follows a truffle forager whose beloved truffle-finding pig goes missing. It was released theatrically in the United States on July 16, 2021, by Neon. The film received acclaim from critics, who praised its direction and themes, as well as Cage's performance; many critics ranked it among the best of his career and as a return to form for the actor.

Plot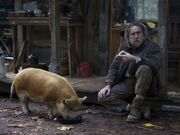 Robin "Rob" Feld is a former Portland-based chef turned reclusive truffle forager following the death of his wife and partner Lori fifteen years prior. He hunts truffles deep in the forests of Oregon through the use of his prized foraging pig. He begins supplying the truffles he and his pig finds to Amir, a young, inexperienced seller. One night, Rob is assaulted by unidentified assailants who also steal his pig.
He reaches out to Amir, who helps him locate a group of junkies who another local truffle-hunter suspects of being the culprits. They claim not to have the pig, but allude that the person who got it from them lives in downtown Portland. Rob and Amir infiltrate an underground fighting ring, where they manage to extract another clue as to the whereabouts of Rob's pig.
The following morning, Amir makes himself and Rob breakfast and voices his admiration for him as a chef; Amir's parents' marriage was an unhappy one, but Amir recalls his parents being at their happiest following a dinner at Rob's restaurant many years ago before his mother eventually committed suicide. Following his lead from the fighting ring, Rob asks Amir to secure reservations for themselves at Eurydice, a popular, trendy restaurant. In the meantime, Rob visits the house that he lived in with Lori.
At Eurydice, Rob requests a meeting with its head chef, Derrick, a former pasta chef at Rob's restaurant. After pointedly criticizing Derrick for opening a contemporary restaurant rather than the pub he always wanted to run, an emasculated Derrick confesses that Amir's wealthy father, Darius, was behind the theft of his pig, which he knew about after Amir informed him about its existence.
Rob angrily ends his partnership with Amir before going to confront Darius at his home. Darius promises him $25,000 dollars in exchange for the pig and threatens Rob with the pig's death should he come after him again. After Amir visits his mom, who is actually alive and in a coma, implying her suicide attempt was a failed one, he goes to pick up Rob from Darius's house. Rob admits to Amir that he does not actually need his pig to hunt truffles, but he simply appreciates its companionship. He then asks Amir to help him get his pig back another way.
Rob retrieves a loaf of bread from his former baker while Amir acquires a bottle of wine from Rob and Lori's personal collection at the mausoleum where Lori's body is being held. After sneaking back into Darius's house, Rob and Amir cook the same dinner, which Darius and his wife were cooked years earlier by Rob, for the three of them in the kitchen. Darius is brought to tears over the meal and retreats to his office. When Rob again asks where his pig is, Darius confesses that the junkies he hired to take it had mishandled it, resulting in its death; Rob is devastated.
A remorseful Amir drives Rob back to the Skyline tavern from where he had first picked him up, and Rob, despite everything, decides to resume his partnership with him. Returning to his cabin, he plays a tape that Lori recorded of herself singing "I'm on Fire" to him for his birthday.

Cast
Nicolas Cage as Robin "Rob" Feld
Alex Wolff as Amir
Adam Arkin as Darius
Nina Belforte as Charlotte
Gretchen Corbett as Mac
Julia Bray as Tweakette
Darius Pierce as Edgar
Elijah Ungvary as Tweaker
Cassandra Violet as Lorelai "Lori" Feld
Production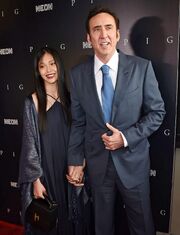 In September 2019, it was announced Nic Cage and Alex Wolff had joined the cast of the film, with Michael Sarnoski directing from a screenplay he wrote.
Principal photography began September 23, 2019, in Portland, Oregon.

Release
In March 2020, Neon acquired U.S. distribution rights to the film. Pig had a theatrical release in the United States on July 16, 2021.

Reception


On review aggregator website Rotten Tomatoes, the film holds an approval rating of 97% based on 117 reviews, with an average rating of 8.3/10. The site's critics consensus reads, "Like the animal itself, Pig defies the hogwash of expectations with a beautiful odyssey of loss and love anchored by Nicolas Cage's affectingly raw performance." On Metacritic, the film has a weighted average score of 84 out of 100, based on 30 critics, indicating "universal acclaim".
Richard Roeper of the Chicago Sun-Times gave the film a score of four out of four stars, writing: "The unpredictable Cage delivers some of his best work in years." Bilge Ebiri of Vulture gave the film a positive review and stated, "As it proceeds, it expands its vision and compassion, even as it de-escalates the tension. It's not about the thing it's about, except that it ultimately is totally about the thing it's about." Richard Whittaker of The Austin Chronicle gave the film four-and-a-half out of five stars and stated, "At a time when so many people are struggling to find something of value in their lives, when people are fleeing jobs, cities, futures they thought they wanted, Cage has crafted a quiet soliloquy about grasping onto something that has meaning." Thelma Adams of AARP Movies for Grownups gave the film 4 out of 5 stars and stated, "Playing oddly against expectations, there's no Cage Rage, no showy violence or operatic monologues, just a simple, moving story of a broken man who lost his pig but, perhaps, has found his way." Johnny Oleksinski of The New York Post gave the film three out of four stars, calling it "[an] undeniably odd, but surprisingly touching drama."
Karen Han of Slate gave the film a positive review and stated, "Pig is a small film with a few big surprises executed very well, and well worth going into as blind as possible." Mike D'Angelo of The A.V. Club gave the film a grade of "A", writing that "There are no plot twists, in the traditional sense, but each successive encounter reveals a new facet that enriches the tale." Carlos Aguilar of TheWrap gave the film a positive review, writing, "Not all the ingredients make sense together, but the product of their intermingling inside the filmmaker's narrative pot render a special concoction." Noel Murray, in his review of the film for the Los Angeles Times, wrote that, "Though its plot follows the same rough outline of a John Wick-style shoot-em-up, Pig is actually a quiet and often melancholy meditation on loss, anchored by a character who wishes he could shake free of the person he used to be." Kristy Puchko, in her review of the film for Pajiba, wrote: "Pig is not only a mesmerizing while meditative drama about love and loss. It is also a powerful reminder that Cage is one of the most talented, most captivating movie stars of our time." Cody Corrall of the Chicago Reader gave the film a positive review and stated, "Even through its various webs of tragedy, relentless ambition, and destruction for capital gain-Pig remarkably and overwhelmingly champions care and kindness." Randy Myers of The Mercury News gave the film three-and-a-half out of four stars and stated, "It is Cage who carries Pig with a measured performance in which his trademark outbursts pierce the soul. He's magnificent."
Jeannette Catsoulis of The New York Times gave the film a positive review, writing that, "While Pig can at times feel engulfed by its own sullenness, there's a rigor to the filmmaking and a surreal beauty to Pat Scola's images that seal our investment in Robin's fate." Matt Zoller Seitz of RogerEbert.com gave the film four out of four stars, and wrote: "What a beguiling, confounding film Pig is. From start to finish, it never moves as you might expect it to." Michael O'Sullivan of The Washington Post also gave the film four out of four stars, writing that "Pig's stock in trade is a kind of visual and narrative poetry, and Sarnoski and Block ply it with the skill and light touch of master chefs." The Guardian's Benjamin Lee gave the film three out of five stars and stated, "It... hints at exciting things to come from Sarnoski, a gifted visual filmmaker, who has assembled a promising, if imperfect, debut." Sheri Linden of The Hollywood Reporter gave the film a positive review, writing: "Whatever the screenplay's stumbles, Cage's contained performance embraces his character's losses and his turning away from the world without the slightest play for sympathy." Chuck Bowen of Slant Magazine gave the film three out of four stars and stated, "Nicolas Cage, in full martyr mode here, seems to get off on the perversity of, well, caging his brand of operatic hysteria." Michael Nordine of Variety gave the film a positive review, concluding that, "As a descent into the apparently high-stakes world of truffle-pig-poaching, Pig is unexpectedly touching; as a showcase for Cage's brilliance, it's a revelation."
Gary M. Kramer, in a negative review of the film for Salon.com, wrote that "Pig doesn't give viewers much to care about, other than perhaps the title character. Sarnoski's film is undercooked."