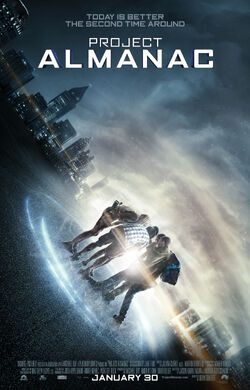 Today is better the second time around.
Directed By
Dean Israelite
Produced By
Michael Bay
Andrew Form
Brad Fuller
Written By
Jason Harry Pagan
Andrew Deutschman
Cast
Jonny Weston
Sofia Black-D'Elia
Sam Lerner
Allen Evangelista
Ginny Gardner
Edited By
Julian Clarke
Martin Bernfeld
Cinematography
Matthew J. Lloyd
Studio
Insurge Pictures
MTV Films
Platinum Dunes
Release Date
January 30, 2015
Rating

Project Almanac (2015) is an American sci-fi adventure film directed by Dean Israelite, written by Jason Harry Pagan and Andrew Deutschman, and starring Jonny Weston, Sofia Black-D'Elia, Sam Lerner, Allen Evangelista, and Ginny Gardner. Originally planned for an early 2014 release, it was released on January 30, 2015.
A brilliant high school student and his friends uncover blueprints for a mysterious device with limitless potential, inadvertently putting lives in danger.
Jonny Weston as David Raskin
Sofia Black D'Elia as Jessie
Sam Lerner as Quinn Goldberg
Allen Evangelista as Adam
Virginia Gardner as Christina
Amy Landecker as Kathy
Michelle DeFraites as Sarah Nathan
Patrick Johnson as Todd
Gary Grubbs as Dr. Lu
Katie Garfield as Liv
Image Gallery
Edit
Community content is available under
CC-BY-SA
unless otherwise noted.