Produced By
Vin Diesel, Ted Field, Samantha Vincen
Cast
Vin Diesel,Katee Sackhoff, Keri Hilson,Jordi Mollà, Dave Batista, Nolan Gerard Funk
Release Date
September 6, 2013
Rating

Riddick is an 2013 American science fiction action film, the third installment in the The Chronicles of Riddick film series. Produced by and starring Vin Diesel as the title character, Riddick is written and directed by David Twohy, who previously wrote and directed the first two installments, Pitch Black (2000) and The Chronicles of Riddick (2004).
The film is scheduled for a September 6, 2013 release.
Riddick has been double crossed by the Necromongers and left for dead on a sun-scorched planet where he finds himself fighting for his life against an alien race predators. In order for Riddick to get off of the planet is for him to activate an emergency beacon, which alerts mercenaries who come immediately in search of their bounty, Riddick. The first ship to arrive on the planet carries a new kind of mercenaries, who are deadlier than one's we've seen in the two previous movies, and the second ship brings a man who is after Riddick for personal reasons. As the hunt for Riddick begins time starts to run out as a storm lurks its way that could kill them all while brining swarms of their monsters their way.
Vin Diesel asRiddick
Karl Urban as Vaako
Katee Sackhoff as Dahl
Dave Bautista as Diaz
Nolan Gerard Funk as Luna
Jordi Moll as Santana
Antoinette Kalaj as ???
Bokeem Woodbine as Moss
Noah Danby as Nunez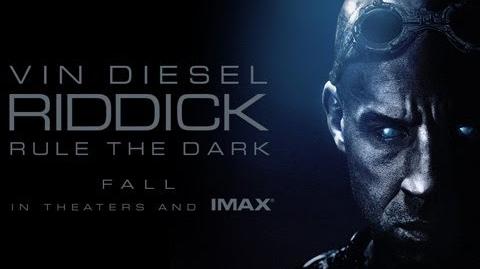 Community content is available under
CC-BY-SA
unless otherwise noted.