Doctor Strange in The Multiverse o Madness - The Loop
Play Sound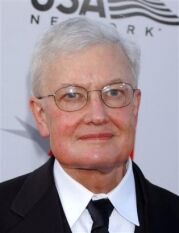 Roger Joseph Ebert (June 18, 1942 – April 4, 2013) was film critic who writes for the Chicago Sun-Times; his reviews are syndicated to over 200 newspapers in the U.S. and abroad. He is also a long-time co-host of a syndicated television program featuring his film criticism, first for 23 years with Gene Siskel and since Siskel's death, with Richard Roeper on Ebert & Roeper.
In 1975 he became the first film critic to win a Pulitzer Prize for Criticism. Ebert has honorary degrees from the University of Colorado, the American Film Institute, and the School of the Art Institute of Chicago. He received a star on the Hollywood Walk of Fame in June 2005, the first professional film critic to receive this honor.
Through his newspaper reviews, books, television shows, and lectures, he has contributed considerably to the appreciation of film among members of the North American public. He also runs a special section of his website devoted to what he deems to be great films.
Since 1999 Ebert has hosted the annual Roger Ebert's Overlooked Film Festival in Champaign, Illinois.
Films reviewed
Career as a critic
Ebert began his film critic career in 1967, writing for the Chicago Sun-Times.
In 1976 he and Gene Siskel of the Chicago Tribune began co-hosting a weekly movie review television show, Sneak Previews, produced by a Chicago public broadcasting station. The show became national when it was picked up by PBS in 1978. In 1982, the critics moved to a syndicated commercial television show named At the Movies, and later, Siskel & Ebert, where they were known for their "thumbs up/thumbs down" review summaries.
When Gene Siskel died in 1999, Ebert and his show's producers retitled the show Roger Ebert & the Movies which rotated co-hosts as a way of auditioning them. In September 2000, fellow Chicago Sun-Times columnist Richard Roeper became the permanent co-host and the show was renamed Ebert & Roeper.
Ebert has also done DVD audio-commentaries for several films including Citizen Kane, Casablanca, Dark City and Floating Weeds.
Ebert, with partner Roeper, annually cover the Oscars on ABC Chicago affiliate on the red carpet and on a post Oscar show.
Other career highlights
As a teenager, Ebert was involved in science fiction fandom, writing articles for fanzines, including Richard Lupoff's Xero. In 1958, he won the Illinois high school championship in radio speaking, a speech event.
Ebert co-wrote the screenplay for the 1970 cult film, Beyond the Valley of the Dolls, directed by Russ Meyer, and likes to joke about being responsible for the poorly received film. Ebert and Meyer also made Beneath the Valley of the Ultra-Vixens and were involved in the ill-fated Sex Pistols movie Who Killed Bambi?.
Style of criticism
Ebert's reviews are known for their insight as well as their wit. He often makes heavy use of mocking sarcasm, especially when reviewing bad movies, of which he has earned a reputation for being scathingly critical. Ebert has been also known occasionally to review movies in the forms of stories, poems, songs, scripts, or imagined conversations.
Ebert has written many essays and articles exploring in-depth the concept of film criticism, treating it as a serious subject.
In his own words:
"The star rating system is relative, not absolute. When you ask a friend if Hellboy is any good, you're not asking if it's any good compared to Mystic River, you're asking if it's any good compared to The Punisher. And my answer would be, on a scale of one to four, if Superman: The Movie is four, then Hellboy is three and The Punisher is two. In the same way, if American Beauty gets four stars, then The United States of Leland clocks in at about two."[1]
Ebert is an outspoken opponent of the Motion Picture Association of America rating system, and has repeatedly criticized their decisions regarding which movies are "suitable for children" -- for example, Whale Rider, which he thought should be PG instead of PG-13.[2] He also frequently laments that cinemas outside major cities are "booked by computer from Hollywood with no regard for local tastes," making high-quality independent and foreign films virtually unavailable to most moviegoers.[3]
Personal life
Ebert's interest in journalism began in his teens. While at Urbana High School of Urbana, Illinois, he was a sports writer for The News-Gazette in Champaign, Illinois, and in his senior year he was co-editor of his high school newspaper, The Echo. In 1958, Ebert won the Illinois High School Association state speech championship in Radio Speaking, an event that simulates radio newscasts. Ebert received his undergraduate degree from the University of Illinois at Urbana-Champaign, where he was editor of The Daily Illini and member of the Phi Delta Theta Fraternity.
Ebert did graduate study in English at the University of Cape Town under a Rotary International Fellowship. He was a doctoral candidate in English at the University of Chicago when the film critic's position was offered to him at the Sun-Times. For the last three decades he has worked for the University of Chicago as a guest lecturer, teaching a night class on film. His fall 2005 class is on the works of the German director Rainer Werner Fassbinder.
He married trial attorney Chaz Hammelsmith on July 18, 1993 and has a step-daughter and two step-grandchildren. He also once dated Oprah Winfrey, who credits him with encouraging her to go into syndication. He is also good friends with film historian and critic Leonard Maltin, and considers the book Leonard Maltin's Movie and Video Guide to be the standard of film criticism.
In 2002, Ebert suffered a bout with papillary thyroid cancer. He underwent surgery in February 2002 which successfully removed the cancer. He later underwent surgery in 2003 for cancer in his salivary gland. In December 2003, he underwent a four week course of radiation treatment as a followup to the surgery on his salivary gland which altered his voice slightly. He continued to review movies, not missing a single opening while undergoing treatment.
It was reported June 1 in the Chicago Sun-Times that he will undergo surgery Friday, June 16, 2006 to remove a cancerous growth on his salivary gland. He was quoted as saying, "This is known as a slow growing and persistent cancer. You live with it."
He reportedly will film enough TV programs with his co-host, Richard Roeper, to keep him on the air while he recovers.[4]
Books written by Ebert
Each year, Ebert publishes a book of all the movie reviews from that year. He has also authored the following books:
Ebert's "Bigger" Little Movie Glossary (ISBN 0836282892) — a book of movie clichés.
The Great Movies (ISBN 0767910389) and The Great Movies II (ISBN 0767919505) — two books of essays about great films.
I Hated, Hated, Hated This Movie (ISBN 0740706721) — a collection of reviews of films he hated.
Roger Ebert's Book of Film (ISBN 0393040003) — a Norton Anthology of a century of writing about the movies.
Questions For The Movie Answer Man (ISBN 0836228944) — his responses to questions sent from his readers.
Behind the Phantom's Mask (ISBN 0836280210) — his first attempt at fiction.
An Illini Century (ASIN B0006OW26K) — the history of the first 100 years of the University of Illinois.
The Perfect London Walk (ISBN 0836279298) — a tour of Ebert's favorite foreign city.
References
See also
External links