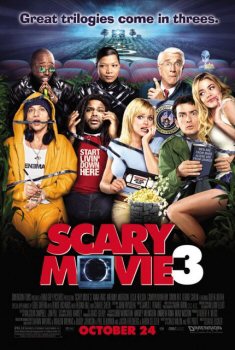 More merciless. More shameless.
Directed By
Keenen Ivory Wayans
Release Date
October 23, 2003
Runtime
1 Hour And 24 Minutes
Rating
R (U.S.A.)
18 (U.K.)
13+ (Quebec, Canada)
14A (British Columbia, Canada)
14 (Nova Scotia, Canada)
18A (Alberta, Canada)
AA (Ontario, Canada)
PA (Manitoba, Canada)
-12 (France)
MA (Aulstralia)
R16 (New Zealand)

Scary Movie 3 is a 2003 American comedy/parody/spoof film that is a sequel to 2000's Scary Movie and Scary Movie 2. It is directed by Keenen Ivory Wayans, written by Shawn Wayans, Marlon Wayans, Alyson Fouse, Greg Grabianski, Dave Polsky, Michael Anthony Snowden, and Craig Wayans, and produced by Eric L. Gold. It is distributed by Miramax and followed by Scary Movie 4 and Scary Movie 5.
Plot Summary
Edit
All of your favorite Scary Movie characters are back in a laugh-packed sequel that scares up even more irreverent fun than the original! Marlon Wayans (Scary Movie, Requiem For A Dream), Shawn Wayans (Scary Movie, Don't Be A Menace...), and Anna Faris (Scary Movie) lead a stellar cast that takes extreme pleasure in skewering Hollywood's most frightening feature films and spoofing popular culture. Also starring Regina Hall (Scary Movie, Love And Basketball), Christopher Kennedy Masterson (TV's Malcolm In The Middle), Tori Spelling (TV's Beverly Hills 90210)... plus Tim Curry (Charlie's Angels), Chris Elliot (The Nutty Professor II: The Klumps), and James Woods (Any Given Sunday), nothing's sacred and anything goes in this outlandish must-see comedy hit!
Community content is available under
CC-BY-SA
unless otherwise noted.