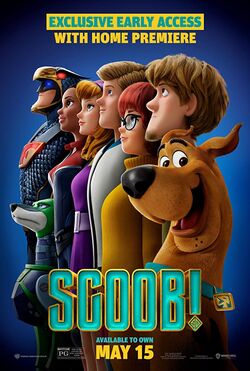 Scoob! (stylized as SCOOB!) is a 2020 American computer-animated adventure mystery-comedy film featuring characters from the Scooby-Doo franchise, produced by Warner Animation Group. It is a reboot of the Scooby-Doo series and is intended to be the first film in a proposed set up for a Hanna-Barbera Cinematic Universe.[1]
The film was released on VOD on May 15, 2020 by Warner Bros.
Spoiler warning: The following contains plot details about
the entire movie.
In Venice Beach, California, a stray puppy comes across a restaurant and sees a giant piece of meat hanging in the window, to which the puppy then steals. The shop owner calls out as his meat is being stolen and a cop starts chasing the puppy. The puppy eventually escapes the cop by hiding behind two mounds of sand. Shaggy then comes up to the mounds of sand and sets up a picnic, pretending that the mounds of sand were one of his friends. The puppy starts to feel empathetic towards Shaggy and comes out from behind the sand, offering to eat with Shaggy. The cop finally finds Shaggy and the puppy and insists that the puppy go with the cop. Shaggy refuses and claims that the puppy is his dog and that his name is Scooby-Dooby-Doo. The cop then lets them be.
Shaggy then gives Scooby a custom collar made for him in his room, which Scooby swears to never take off. On Halloween night, Shaggy and Scooby go trick-or-treating. They come across the Rigby House, a mansion that Shaggy claims is haunted. Suddenly, two bullies steal their bag of candy as Shaggy and Scooby begin to leave and throw it into the Rigby House. After the bullies run away, Shaggy and Scooby meet Fred, Daphne, and Velma, They offer to go into the house and try to get their candy back. As they walk into the house they are attacked by a ghost. Velma notices that the ghost is attached to a moving wire system in the ceiling. Fred cuts the wire and the ghost falls down, only to be tied up. They soon find out that he isn't a ghost and is actually Mr. Rigby, wearing a mask. Shaggy and Scooby discover a hidden room, filled with expensive, stolen electronics. The police arrive and take away Mr. Rigby. The five friends then decide to pursue mystery solving.
Years later and the gang is eating at a diner. Fred, Velma, and Daphne are all ready to make Mystery Inc. a business. Velma explains that Simon Cowell, is considering investing. Cowell shows up and explains that for him to invest in Mystery Inc, they require to be a better group and that Shaggy and Scooby add nothing to the dynamic of the team. Feeling unwanted, Shaggy and Scooby go to a bowling alley. Suddenly, they are attacked by robots, who begin firing lasers at Shaggy and Scooby. Just when Shaggy and Scooby about to be caught by the robots, all of a sudden a blue light beams them up into the sky. They are sucked into the interior of a futuristic airplane. Shaggy realizes that they are inside the Falcon Fury, Blue Falcon's plane. She explains that the robots were sent by Dick Dastardly who wants to kill Shaggy and Scooby. Dynomutt appears and reveals that actually, he is the original Blue Falcon's son, Brian, and that he has taken over the position, and that his dad is now in a retirement home.
Dynomutt, Blue Falcon, and Dee Dee explain to Shaggy and Scooby that Dastardly is collecting the skulls of Cerberus. They reveal that Dastardly already has one and that he'll get the other two, their mission is to collect them before he can. Dynomutt comes to the conclusion that actually Dastardly wants Shaggy and Scooby alive after a chase. Meanwhile, Fred, Velma, and Daphne are asking questions to a employee at the bowling alley to figure out what happened to Shaggy and Scooby. The employee hands them a cardboard box with the remains of one of Dastardly's robots. They investigate the robot in the Mystery Machine. When they discover a loose hair on the robot and track it back to Dick Dastardly, They decide to go after him and help Shaggy and Scooby.
Dee Dee and Dynomutt figure out that the second skull is in the Gobi Desert and they urge Blue Falcon to go there with them. However, Blue Falcon decides to listen to a DM that says that the skull is in Funland, an abandoned amusement park in Romania. Meanwhile, in the Mystery Machine, Velma reveals that Scooby is the last descendant of Peritas, Alexander the Great's dog. The Falcon Fury arrives at Funland, but as soon as they walk inside the park, Dick Dastardly's ship ascends from the sky and reveals that he was the one who sent Blue Falcon the DM and that he has just retrieved the second skull. After a long chase, Dee Dee deploys the tractor beam, which pulls Shaggy, Scooby, and Blue Falcon up into the Falcon Fury. Dastardly admits that he is only after Scooby and not Shaggy and Brian is revealed to be just as cowardly as Shaggy and Scooby.
Shaggy begins to feel useless and Brian tries comforting him who in turn deduces that Brian is suffering from self-doubt as well over continuing his father's legacy. Fred, Daphne and Velma discover that Shaggy and Scooby are with Brian through social media, but are captured by Dastardly. They manage to get a sympathetic robot nicknamed Dusty to help them escape and learn that Dastardly is headed to Messick Mountain where the third skull is. Using an old radio, they get this information to the Falcon Fury, but are captured again by Dastardly who reveals that he wants to open the gates to the Underworld so that he can rescue his dog Muttley after they tried stealing the riches from there.
The Falcon Fury heads to Messick Mountain which is revealed to have a Mesozoic ecosystem underneath. Shaggy refuses to leave the ship as he feels that Scooby does not want him anymore while the rest of the gang head into the jungle. They encounter Captain Caveman who has been guarding the final Cerberus skull and challenges them to a fight over it. Fred arrives with the Mystery Machine and takes Shaggy to Scooby, but it turns out to be Dastardly in disguise. He takes the skull and kidnaps Scooby, before dropping Fred, Daphne and Velma into the jungle and destroying the Falcon Fury, stranding them. The group argues, but Shaggy manages to get everyone to work together and they reconstruct the Mystery Machine using the left over Falcon Fury parts.
Dastardly arrives in Athens where he uses the skull to unveil the gate and uses Scooby's paw to open it. Cerberus escapes and begins causing havoc. As the rest of the heroes arrive, they are shot down by the Rotten Robots, but survive. Dastardly enters the gate where he is reunited with Muttley and make off with a collection of treasure. The gang come together to fight Cerberus with Brian overcoming his fear and facing him. Velma discovers that in order to lock the gate, someone with a close connection to their dog must close it from the other side. They get Cerberus through the gate and Shaggy offers to sacrifice himself. A statue of Alexander and Peritas appears and the gang realize that it is another exit. Scooby unlocks it and Shaggy is reunited with the gang while Dusty and the Rotten Robots turn on Dastardly and Muttley and bring them to justice.
Back at Venice Beach, the gang unveil their new Mystery Inc. Headquarters and celebrate with Brian, Dynomutt and Dee Dee who in turn give the gang a new upgraded Mystery Machine. The Mystery Gang is immediately called away on another case. During the credits, the Mystery Gang's popularity rises, Brian forms the Falcon Force with new members Captain Caveman, Jabberjaw, Atom Ant and Grape Ape and Muttley breaks Dastardly out of prison.
All spoilers have been stated and have ended here.
Frank Welker as Scooby-Doo
Will Forte as Shaggy Rogers
Zac Efron as Fred Jones
Gina Rodriguez as Velma Dinkley
Amanda Seyfried as Daphne Blake
Tracy Morgan as Captain Caveman
Ken Jeong as Dynomutt, Dog Wonder
Kiersey Clemons as Dee Dee Skyes
Mark Wahlberg as Blue Falcon
Jason Isaacs as Dick Dastardly
Billy West as Muttley
Simon Cowell as Himself
Iain Armitage as Young Shaggy Rogers
Pierce Gagnon as Young Fred Jones
Ariana Greenblatt as Young Velma Dinkley
Mckenna Grace as Young Daphne Blake
Henry Winkler as Keith
Don Messick as the Space Kook & Muttley (archive sound)
Christina Hendricks as Officer Jaffe
Kevin Heffernan as Officer Gary
Adam Sztykiel as Officer Casey
Alex Kaufman as Officer North
Maya Erskine as Judy Takamoto
Justina Machado as Jamie Rivera
John McDaniel as Hal Murphy
Fred Tatasciore as Cerberus
Henry Kaufman as Chad and Chet
Pam Coates as Mrs. Rogers
Vanara Taing as Baby Rotten
Sarah Lancia as Dispatcher Stevens
John DiMaggio as Restaurant Owner
Eric Cowell as Ben
Tony Cervone as Ghost and Mr. Rigby
On June 17, 2014, Warner Bros. Pictures announced that they would reboot the Scooby-Doo film series with an animated film being written by Randall Green. On August 17, 2015, Tony Cervone was hired to direct the animated film on a script by Matt Lieberman, while Charles Roven and Richard Suckle would produce the film along with Allison Abbate. Dan Povenmire would be involved in a creative capacity and would executive produce the film.[2]
At the 2016 CinemaCon, the film's official title was announced to be S.C.O.O.B., about Scooby-Doo and the Mystery Machine gang working for a larger organization.[3] The film was intended to lead into a cinematic universe based on Hanna-Barbera properties. In September 2016, it was reported that Dax Shepard would be directing the film along with Cervone, whilst he would also revise the script. In October 2018, it was announced that Shepard was no longer a part of the project and was replaced by Kelly Fremon Craig as screenwriter.
In March 2019, Frank Welker was revealed to be reprising his role as Scooby-Doo, while Will Forte, Gina Rodriguez, and Tracy Morgan signed on to voice Shaggy, Velma, and Captain Caveman, respectively.[4] Later that month, Zac Efron and Amanda Seyfried joined the voice cast as Fred and Daphne.[5]
Matthew Lillard and Grey Griffin, the longtime voices of Shaggy and Daphne, respectively, voiced their disappointment at not being contacted about the decision to recast their roles.[6][7] Efron's casting as Fred also marks the first time the character will not be voiced by Welker (excluding the times the character was a child or portrayed in live-action).
In April 2019, Ken Jeong and Kiersey Clemons were announced to be joining the cast.[8] In May 2019, Mark Wahlberg and Jason Isaacs were added to the cast, with Mckenna Grace, Iain Armitage, Ariana Greenblatt and Pierce Gagnon cast as young versions of Daphne, Shaggy, Velma and Fred.[9] In March 2020, Simon Cowell joined the cast voicing a fictionalized version of himself.[10] In May 2020, it was revealed that voice acting veteran Billy West is reprising his role as Dick Dastardly's sidekick, Muttley and that Cowell's son, Eric joined the film.[11]
On January 2020, Tom Holkenborg signed on to compose the film's score.[12] On May 5, 2020, it was announced that Scoob! The Album would be released on May 15, 2020, featuring the song "On Me" by Thomas Rhett and Kane Brown, featuring Ava Max, and "Summer Feelings" by Lennon Stella, featuring Charlie Puth.[13]
The film was set for a September 21, 2018 release, before being pushed back to May 15, 2020.[14] In March 2020, the film's theatrical release was delayed indefinitely due to the coronavirus pandemic.[15] In April 2020, Warner Bros. announced that the theatrical release for Scoob! had been cancelled, and the film will be released instead on video on demand on May 15, 2020.[16] A virtual watch party was held on the night of release on Twitter.[17]
The first official trailer was released on November 11, 2019. A second trailer debuted on March 5, 2020. A novel based on the film was released on April 7, 2020.[18]
On Rotten Tomatoes, the film holds an approval rating of 55% based on 73 reviews, with an average rating of 5.5/10. At Metacritic, the film has an average weighted score of 43 out of 100, based on 28 critics.
The film is Mark Wahlberg and Kiersey Clemons's first time voicing an animated characters.
Warner Animation Group's first ever animated film to be released on video on demand and theaters.
This is the first Warner Animation Group film to be animated by Reel FX.
Scrappy-Doo does not appear in this film.
Community content is available under
CC-BY-SA
unless otherwise noted.