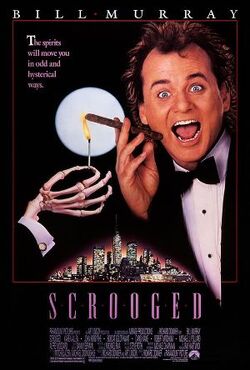 The spirits will move you in odd any hysterical ways
Directed By
Richard Donner
Produced By
Richard Donner
Art Linson
Written By
Novel:
Screenplay:
Mitch Glazer
Michael O'Donoghue
Cast
Bill Murray
Karen Allen
John Forsythe
Bobcat Goldthwait
Carol Kane
Robert Mitchum
Michael J. Pollard
Edited By
Fredric and William Steinkamp
Cinematography
Michael Chapman
Studio
Mirage Productions
Distributed By
Paramount Pictures
Release Date
November 23, 1988
Scrooged (1988) is an American comedy modernization of Charles Dickens' classic tale, A Christmas Carol. The film was produced and directed by Richard Donner, and the screenplay was written by Mitch Glazer and Michael O'Donoghue with Danny Elfman providing the original music score.
A modern twist on Charles Dickens' classic "A Christmas Carol," this time a cynical and selfish TV executive is haunted by three spirits bearing lessons on Christmas Eve.
Bill Murray as Francis Xavier "Frank" Cross
Karen Allen as Claire Phillips
John Forsythe as Lew Hayward
John Glover as Brice Cummings
Bobcat Goldthwait as Eliot Loudermilk
David Johansen as the Ghost of Christmas Past
Carol Kane as the Ghost of Christmas Present
Robert Mitchum as Preston Rhinelander
Nicholas Phillips as Calvin Cooley
Michael J. Pollard as Herman
Alfre Woodard as Grace Cooley
Mabel King as Gramma
John Murray as James Cross
Wendie Malick as Wendie Cross
Brian Doyle-Murray as Mr. Cross, Frank and James's father
Joel Murray as Guest
Celebrity cameos
Edit
Jamie Farr as Himself / Jacob Marley
Buddy Hackett as Himself / Ebenezer Scrooge
Robert Goulet as Himself
John Houseman as Himself
Lee Majors as Himself
Mary Lou Retton as Herself / Tiny Tim
Miles Davis as street musician
Larry Carlton as street musician
David Sanborn as street musician
Paul Shaffer as street musician
On Siskel & Ebert & The Movies, Gene Siskel gave it thumbs up while Roger Ebert gave it thumbs down.
Sam Kinison was originally slated to play the part of The Ghost of Christmas Past. The part eventually went to David Johansen due to his friendship with Bill Murray.
Murray's brothers Brian, John, and Joel also appear in the film.
The film was marketed with references to Ghostbusters which had been a great success four years earlier. In the USA, the tagline was, "Bill Murray is back among the ghosts, only this time, it's three against one."
Community content is available under
CC-BY-SA
unless otherwise noted.