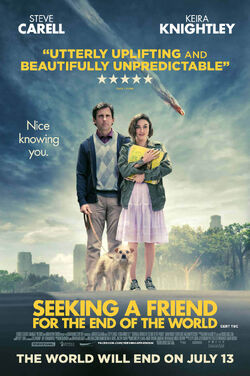 Nice knowing you.
Directed By
Lorene Scafaria
Distributed By
Focus Features
Release Date
June 22, 2012
Rating
Budget
$10,000,000 (estimated)
Seeking a Friend for the End of the World is a 2012 dark comedy film written and directed by Lorene Scafaria. The film stars Steve Carell and Keira Knightley.
An asteroid named "Matilda" is on a collision course towards Earth and in three weeks the world will come to an absolute end. What would you do if your life and the world were doomed? One man decides to spend his time searching for his long lost love from high school during the coming catastrophe.
Steve Carell as Dodge Petersen
Keira Knightley as Penelope "Penny" Lockhart
William Petersen as Trucker
Melanie Lynskey as Karen
Adam Brody as Owen
Tonita Castro as Elsa
Derek Luke as Speck
Connie Britton as Diane
Patton Oswalt as Roache
Rob Corddry as Warren
Melinda Dillon as Rose
Rob Huebel as Jeremy
Gillian Jacobs as Katie
T.J. Miller as Chipper Host
Amy Schumer as Lacey
Jim O'Heir as Sheriff
Martin Sheen as Frank/Dodge's Father
Nancy Carell as Linda/Dodge's ex-wife (Cameo)
Featurettes
Edit
Community content is available under
CC-BY-SA
unless otherwise noted.