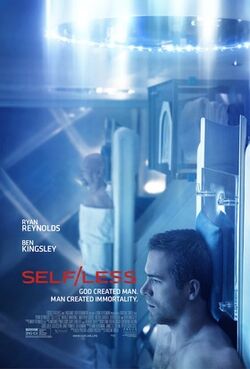 God created man. Man created immortality.
Produced By
Ram Bergman
Peter Schlessel
James D. Stern
Written By
David Pastor
Àlex Pastor
Cast
Ryan Reynolds
Ben Kingsley
Matthew Goode
Michelle Dockery
Cinematography
Brendan Galvin
Music By
Dudu Aram
Antônio Pinto
Studio
Endgame Entertainment
Ram Bergman Productions
Distributed By
Focus Features
Gramercy Pictures
Release Date
July 10, 2015 (United States)
July 17, 2015 (United Kingdom)
Rating

Self/less (2015) is an American science fiction thriller directed by Tarsem Singh, written by David and Àlex Pastor, and produced by Ram Bergman, Peter Schlessel, and James D. Stern. The film stars Ryan Reynolds, Ben Kingsley, Matthew Goode, and Michelle Dockery.
Self/less was released on July 10, 2015 in North America, and on July 17th, 2015 in the United Kingdom.
A dying real estate mogul transfers his consciousness into a healthy young body, but soon finds that neither the procedure nor the company that performed it are quite what they seem.[1]
References
Edit
Community content is available under
CC-BY-SA
unless otherwise noted.