Produced By
Marlow De Mardt, Danny Lerner, Brigid Olen, David Varod
Written By
Scott Devine, William Hooke
Cast
Thorsten Kaye, Nikita Ager, Dan Metcalfe, Caroline Bruins
Cinematography
Yossi Wein
Studio
Nu Image Films, Nu World Services, Do Productions
Distributed By
Nu Image Films
Country
United States, South Africa
Release Date
December 5 2000
Filming Location
Cape Town, Western Cape, South Africa
Shark Attack 2 is a 2001 direct-to-video horror film. This is the sequel to the 1999 horror film Shark Attack. It is directed by David Worth and starring Thorsten Kaye, Nikita Ager and Dan Metcalfe.
The mutant sharks from Dr. Craven's experiments in "Shark Attack" are back, this time choosing Cape Town, South Africa as their hunting ground. Two sisters, Amy and Samantha, while diving near a wreck in the reef are attacked by a shark; Samantha survives. One week later, Dr. Nick Harris and his assistant get the shark and install it as a new attraction at Water World - a Sea World rip-off. When the shark escapes, Nick and Samantha go to hunt it and discover that there are 6 mutant Great Whites living in a cave near the beach, and the Water World's surfing competition might be the next victim! Now they team up with Roy - a Discovery Channel shark hunter - to kill the beasts and save Cape Town.
Thorsten Kaye as Dr. Nick Harris
Nikita Ager as Samantha Peterson
Dan Metcalfe as Roy Bishop
Caroline Bruins as Amy Peterson
Danny Keogh as Michael Francisco
Rob van Vuuren as Daryl Waker
Warrick Grier as Morton
Ian Jepson as Jeff
Andrew Klazinga as Matt
Alstair Cloete as Tom Miller
Morne Visser as Mark Miller
Mark Derman as Kenny
Peter Butler as Mayor Shandu
Sean Higgs as T.J.
Rory Atkinson as Hootie
In the Deep Blue Sea there Lives a Dark Secret
The killer is back
It was followed by 2 sequels, Shark Attack 3: Megalodon in 2002, and Shark Zone in 2003.
Reception
Edit
The film's reception was poor. It holds 2.7 stars out of 10 on IMDb.
Movie mistakes
Edit
When the main characters are at the beach for the surfing competition, and the sharks break through the net and start eating the surfers, the woman says "Oh my God!" without moving her lips.
During the attack where the surfers are killed there are several times when a shot of a surfer is shown and the 'attacking shark' can be seen just centimeters away under the water, immobile and obviously a prop.
During the surf competition, while Tom is swimming away from the sharks, the water is calm, suggesting this scene was shot in a lake or pool. You can see it again while Nick is swimming back to his jet swimmer.
There is dialogue among the divers during the final underwater scene. There is no means for wireless verbal communication underwater.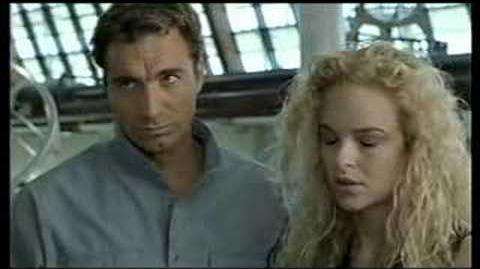 Community content is available under
CC-BY-SA
unless otherwise noted.