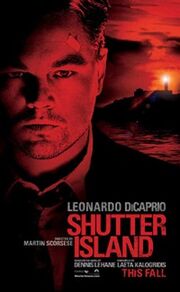 Shutter Island is a 2010 American horror thriller film directed by Martin Scorsese and starring Leonardo DiCaprio. The film is based on the 2003 novel of the same name by Dennis Lehane.
In 1954, two U.S. marshals investigate the disappearance of a patient from a hospital for the criminally insane on an island in Massachusetts. They run into trouble when they are deceived by the hospital's chief administrator, a hurricane hits and an inmate riot traps them on the island.
Leonardo DiCaprio portrays Teddy Daniels, a U.S. marshal investigating the disappearance.
Mark Ruffalo portrays Chuck Aule, a U.S. marshal and Teddy's partner.
Ben Kingsley portrays the hospital's chief physician, Dr. John Cawley.
Michelle Williams portrays Daniels' wife.
Emily Mortimer portrays the escaped patient Rachel Solando.
Max von Sydow portrays Dr. Jeremiah Naering, one of the hospital's physicians.
Jackie Earle Haley portrays George Noyce.
Ted Levine portrays the Warden of the Hospital.
John Carroll Lynch portrays McPherson, a guard at the Hospital.
Elias Koteas portrays Andrew Laeddis.
Patricia Clarkson portrays Ethel Barton.
Community content is available under
CC-BY-SA
unless otherwise noted.