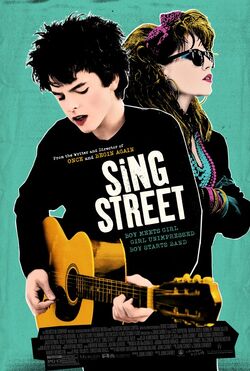 Boy Meets Girl. Girl Unimpressed. Boy Starts Band.
Screenplay By
John Carney
Release Date
January 24, 2016 (Sundance)
March 17, 2016 (Ireland)
April 15, 2016 (United States)
May 20, 2016 (United Kingdom)
Rating

Sing Street is a musical coming-of-age comedy-drama film directed by John Carney. The cast of the film consists of Ferdia Walsh-Peelo, Lucy Boynton, Maria Doyle Kennedy, Aidan Gillen, Jack Reynor, and Kelly Thornton.
To be added
Community content is available under
CC-BY-SA
unless otherwise noted.