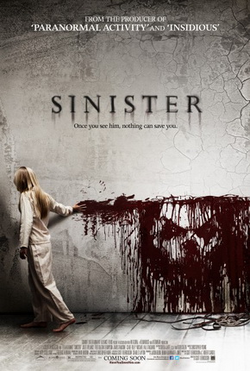 Tonight, you've never seen anything this Sinister...
Directed By
Scott Derrickson
Produced By
Jason Blum
Jeanette Brill
Bailey Conway
Scott Derrickson
Gerard DiNardi
Jessica L. Hall
Brian Kavanaugh-Jones
Written By
Scott Derrickson, C. Robert Cargill
Cast
Ethan Hawke, Juliet Rylance, Fred Dalton Thompson, James Ransone, Michael Hall D'Addario, Clare Foley
Release Date
October 12, 2012
Rating

Budget
$3,000,000 (estimated)
Sinister is a 2012 American Horror-Supernatural film. It follows a true-crime writer finds a cache of 8mm home movies films that suggest the murder he is currently researching is the work of a serial killer whose career dates back to the 1960s.
True-crime writer Ellison Oswalt moves himself and his family into a house where a horrific crime took place earlier, but his family doesn't know. He begins researching the crime so that he can write a new book about it to help his flailing career. He uses some "snuff" film footage he finds in the house to help him in his research, but he soon finds more than he bargained for. There is a figure in each of the films but who or what is it? As a result, his family start to suffer (as does he) and things take a turn for the worse. Will they survive?
Ethan Hawke
Juliet Rylance
Fred Dalton Thompson
James Ransone
Michael Hall D'Addario
Clare Foley
Community content is available under
CC-BY-SA
unless otherwise noted.