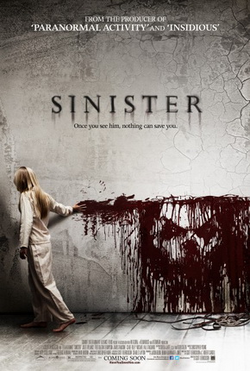 Tonight, you've never seen anything this Sinister...
Directed By
Scott Derrickson
Produced By
Jason Blum
Jeanette Brill
Bailey Conway
Scott Derrickson
Gerard DiNardi
Jessica L. Hall
Brian Kavanaugh-Jones
Written By
Scott Derrickson, C. Robert Cargill
Cast
Ethan Hawke, Juliet Rylance, Fred Dalton Thompson, James Ransone, Michael Hall D'Addario, Clare Foley
Release Date
October 12, 2012
Rating

Budget
$3,000,000 (estimated)
Plot
A true-crime writer finds a cache of 8mm home movies films that suggest the murder he is currently researching is the work of a serial killer whose career dates back to the 1960s.
Cast
Ethan Hawke
Juliet Rylance
Fred Dalton Thompson
James Ransone
Michael Hall D'Addario
Clare Foley
Videos
Trailers
Sources
Community content is available under
CC-BY-SA
unless otherwise noted.