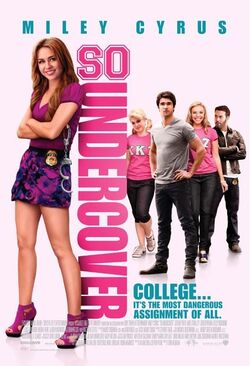 College...It's the most dangerous assigment of all.
Produced By
Guy East
Nigel Sinclair
Allan Loeb
Steven Pearl
Leticia Cyrus
Written By
Allan Loeb
Steven Pearl
Cast
Miley Cyrus
Jeremy Piven
Alexis Knapp
Kelly Osbourne
Joshua Bowman
Autumn Reeser
Studio
Scarlet Fire Entertainment
Distributed By
The Weinstein Company
Release Date
December 7, 2012
Rating


So Undercover is a 2012 action-comedy film directed by Tom Vaughan and written by Allan Loeb and Steven Pearl. It is set to be released December 7, 2012 in the US and UK.
Molly, a private investigator who chose to leave high school to work with her father, a former police officer. Together their days are filled with busting cheating spouses and taking down petty thieves. However, her life unexpectedly changes when she is approached by an FBI agent to go undercover in the one place they're unable to infiltrate, and a world she knows nothing about... A university sorority. During a major makeover, Molly physically transforms herself from the tough, streetwise investigator, to a very affluent sorority girl Brooke Stonebridge. However, Molly also has to learn how to walk the walk and talk the talk to keep her cover for her mission: protect the life of sorority sister Alex Patrone whose father plans to testify against some very dangerous people. With multiple suspects on her list and the trial fast approaching, Molly must navigate a minefield of double crosses as well as the pageantry and chaos of a sorority sister's social life. Through her journey, Molly must protect Alex while discovering that not everyone is who he or she appears to be, including herself.
Production Stills
Edit
Related Links
Edit
Community content is available under
CC-BY-SA
unless otherwise noted.