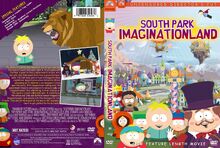 Imaginationland: The Movie is all three episodes, uncensored, plus previously unreleased footage, merged into a compilation film.
It was released direct-to-video in March 2008 for the United States and a year later in the United Kingdom in May 2009. Included were two bonus full-length episodes from previous seasons featuring imaginary characters that reappeared in the trilogy. They are episode 125, "Woodland Critter Christmas", and episode 145, "ManBearPig".
The film made its television debut on June 7, 2008 on The N, a 24/7 teen channel. The N aired an extended, uncut, and edited version, with an extra footage, and some deleted scenes of the film. The film on The N was rated TV-14-LSV.
A few months later the movie was released for free online as a streaming video.[10]
Community content is available under
CC-BY-SA
unless otherwise noted.