We're Getting Mutants in the MCU - The Loop
Play Sound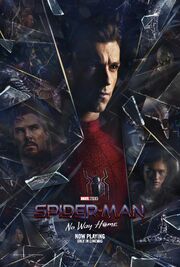 Spider-Man: No Way Home is an American superhero film based on the Marvel Comics character Spider-Man, co-produced by Columbia Pictures and Marvel Studios, and distributed by Sony Pictures Releasing. It is the sequel to Spider-Man: Homecoming (2017) and Spider-Man: Far From Home (2019), and the 27th film in the Marvel Cinematic Universe (MCU). The film was directed by Jon Watts, written by Chris McKenna and Erik Sommers, and stars Tom Holland as Peter Parker / Spider-Man, alongside Zendaya, Benedict Cumberbatch, Jacob Batalon, Jon Favreau, Jamie Foxx, Willem Dafoe, Alfred Molina, Benedict Wong, Tony Revolori, Marisa Tomei, Andrew Garfield and Tobey Maguire.
A third MCU Spider-Man film was planned during the production of Homecoming in 2017. Negotiations between Sony and Marvel Studios to alter their deal—in which they produce the Spider-Man films together—ended with Marvel Studios leaving the project in August 2019, but a negative fan reaction led to a new deal between the companies a month later. Watts, McKenna, Sommers, and Holland were set to return, and filming took place from October 2020 to March 2021 in New York City and Atlanta. No Way Homefeatures several actors reprising their roles from non-MCU Spider-Man films directed by Sam Raimi and Marc Webb, including previous Spider-Man actors Maguire and Garfield. The involvement of both actors was the subject of wide speculation and numerous leaks despite the efforts of Sony, Marvel, and the cast to conceal their involvement.
Spider-Man: No Way Home premiered at the Fox Village Theatre in Los Angeles on December 13, 2021, and was released in the United States on December 17, 2021, as part of Phase Four of the MCU. The film was an almost-universal acclaim, with praise for its fan service, chemistry, action sequences, plot, emotional depth, humor, and performances, with critics considering it as the best Spider-Man film ever. Like its predecessors, the film received extremely high praise from fans and audiences, which lead to the film becoming a huge box office success, becoming the highest-grossing film of 2021, the highest-grossing Spider-Man film, the-sixth highest-grossing film of all time, and the highest-grossing film released by Sony Pictures, surpassing Far from Home. In the wake of its release, the fourth Spider-Man film is already confirmed to be in development.
Plot
After Quentin Beck frames Peter Parker for murder and reveals his identity as Spider-Man, Parker, his girlfriend MJ, best friend Ned Leeds, and aunt May are interrogated by the Department of Damage Control. Lawyer Matt Murdock gets Parker's charges dropped, but the group grapples with negative publicity. After Parker, MJ, and Ned's MIT applications are rejected, Parker goes to the New York Sanctum to ask Stephen Strange for help. Strange suggests a spell that would make people forget Parker is Spider-Man, but it is corrupted when Parker repeatedly requests alterations to let his loved ones retain their memories. Strange contains the spell to stop it from working and makes Parker leave.
Parker tries to convince an MIT administrator to reconsider MJ and Ned's applications, but is attacked by Otto Octavius. Octavius rips Parker's nanotechnology from his Iron Spider suit which bonds with his mechanical tentacles and allows Parker to disable them. As Norman Osborn arrives and attacks, Strange teleports Parker back to the Sanctum and locks Octavius in a cell next to Curt Connors. Strange explains that before he was able to contain the corrupted spell, it summoned some people from other universes who know Spider-Man's identity. He orders Parker, MJ, and Ned to find and capture them; they are able to locate and retrieve Max Dillon and Flint Marko.
Osborn reclaims control of himself from his split Green Goblin personality. He goes to a F.E.A.S.T. building where May comforts him before Parker retrieves him. While discussing their battles with Spider-Man, Osborn, Octavius, and Dillon realize that they were pulled from their universes just before their deaths. Strange prepares to reverse the contained spell and send the villains back to their respective universes, but Parker argues that they should first cure the villains' powers and insanity to prevent their deaths upon their return. Parker steals the spell, traps Strange in the Mirror Dimension, and, with May, takes the villains to Happy Hogan's apartment. He cures Octavius, but Osborn's Goblin persona takes control and convinces the uncured villains to betray Parker. As Dillon, Marko, and Connors escape, Goblin fatally injures May before escaping himself. Before she dies, May tells Parker that "with great power, there must also come great responsibility".
Ned discovers that he can create portals using Strange's sling ring, which he and MJ use to try to locate Parker. They instead find alternate versions of Parker from the villains' universes who were also summoned by Strange's spell and who are nicknamed "Peter-Two" and "Peter-Three". The group finds this universe's Parker, nicknamed "Peter-One", who is ready to give up and send the villains home. The alternate Parkers share stories of losing loved ones and encourage Peter-One to fight in May's honor, and the three Parkers develop cures for the villains.
The group lure Dillon, Marko, and Connors to the Statue of Liberty. Peter-One and Peter-Two cure Marko and Connors while Octavius arrives to help cure Dillon, and Ned frees Strange from the Mirror Dimension with a portal. Goblin appears and unleashes the contained spell which begins pulling more people in from other universes. Strange attempts to hold them off while an enraged Peter-One tries to kill Goblin. Peter-Two stops him and Peter-Three helps Peter-One inject Goblin with his cure, restoring Osborn's sanity. Peter-One realizes that the only way to protect the multiverse is to erase himself from everyone's memory and requests that Strange do so, while promising MJ and Ned that he will find them again. The spell is cast and everyone returns to their respective universes—including Eddie Brock, who leaves behind a piece of the Venom symbiote. Two weeks later, Parker visits MJ and Ned to reintroduce himself, but decides against it. While mourning at May's grave, he has a conversation with Hogan and is inspired to carry on, making a new suit and resuming his vigilantism.
Cast
Holland's brother Harry and Lexi Rabe shot additional scenes as a drug dealer (carrying on from his cameo in Cherry) and Morgan Stark respectively, but they were cut from the theatrical release.
Production
Development
During production on Spider-Man: Homecoming (2017), two sequels were being planned by Marvel Studios and Sony Pictures. In June 2017, star Tom Holland said the third film would take place during Peter Parker / Spider-Man's senior year of high school. In July 2019, Marvel Studios President Kevin Feige said the third film would feature "a Peter Parker story that has never been done before on film" due to the ending of the second film, Spider-Man: Far From Home (2019), which publicly revealed that Parker is Spider-Man.Homecoming and Far From Home director Jon Watts expressed interest in Kraven the Hunter being the main antagonist of the third film.
By August 2019, development on two new Spider-Man films had begun with Sony hoping Watts and Holland would return for both; Holland was contracted to return for one more film, while Watts had completed his two-film deal and would need to sign on for any more films. By then, Marvel Studios and its parent company Walt Disney Studios had spent several months discussing expanding their deal with Sony. The existing deal had Marvel and Feige produce the Spider-Man films for Sony and receive 5% of their revenue. Sony wanted to expand the deal to include more films than had initially been agreed on while keeping the same terms of the original agreement. Disney expressed concern with Feige's workload producing the Marvel Cinematic Universe (MCU) franchise already and asked for a 25–50% stake in any future films Feige produced for Sony. Unable to come to an agreement, Sony announced that it would be moving forward on the next Spider-Man film without Feige or Marvel's involvement. Their statement acknowledged that this could change in the future, thanked Feige for his work on the first two films, and said they appreciated "the path [Feige] has helped put us on, which we will continue."
Chris McKenna and Erik Sommers were writing the screenplay for the third film by the time of Sony's announcement, after also doing so for Far From Home, but Watts was receiving offers to direct large films for other studios instead of returning to the franchise, including potentially working on a different property for Marvel Studios and Feige. In September, Sony Pictures Entertainment chairman Tony Vinciquerra said that "for the moment the door is closed" on Spider-Man returning to the MCU, and confirmed that the character would be integrated with Sony's own shared universe — the Sony Pictures Universe of Marvel Characters (SPUMC) — moving forward. Responding to backlash from fans following the announcement, Vinciquerra added that "the Marvel people are terrific people, we have great respect for them, but on the other hand we have some pretty terrific people of our own. [Feige] didn't do all the work ... we're pretty capable of doing what we have to do here." However, after this fan reaction continued at Disney's biennial convention D23, and at the urging of Holland who personally spoke to Disney CEO Bob Iger and Sony Pictures Motion Picture Group chairman Tom Rothman, the companies returned to negotiations.
Sony and Disney announced a new agreement at the end of September 2019 which would allow Marvel Studios and Feige to produce another Spider-Man film for Sony, scheduled for July 16, 2021, keeping the character in the MCU. Disney was reported to be co-financing 25% of the film in exchange for 25% of the film's profits, while retaining the merchandising rights to the character. The agreement also allowed Holland's Spider-Man to appear in a future Marvel Studios film. Feige stated, "I am thrilled that Spidey's journey in the MCU will continue, and I and all of us at Marvel Studios are very excited that we get to keep working on it." He added that moving forward the MCU's Spider-Man would be able to "cross cinematic universes" and appear in Sony's own shared universe as well. This interaction was said to be "a 'call and answer' between the two franchises as they acknowledge details between the two in what would loosely be described as a shared detailed universe". Sony described their previous films with Marvel Studios as a "great collaboration", and said "our mutual desire to continue was equal to that of the many fans." At the time of the new agreement, Watts was in final negotiations to direct the film.
Discussing the new deal in October, Iger attributed it to the efforts of Holland as well as the fan response to the end of the original deal, saying, "I felt for [Holland], and it was clear the fans wanted this to happen." He added that while negotiating the deal both Sony and Disney had forgotten "there are other people who actually matter." Rothman added that he felt the deal was a "win-win-win. A win for Sony, a win for Disney, a win for the fans." Speaking back to the August reports of the negotiating breaking down, Rothman said that revelations in the media of discussions such as the negotiations do not necessarily line up with the actual discussions taking place, and he felt that the final deal would have eventuated without the reports and fan discourse, saying, "We would have gotten there, and the news got ahead of some things." Also in October, Zendaya was confirmed to be reprising her role of MJ from the previous films in the sequel. By the end of the year, filming was expected to begin in mid-2020.
Pre-production
In April 2020, Sony rescheduled the film to November 5, 2021, due to the COVID-19 pandemic. In June, Marisa Tomei confirmed she would return as May Parker along with Watts as director. She was hopeful that May's work as a community organizer would be featured in the film. The next month, Holland said production was planned to take place from late 2020 to February 2021, and Sony shifted the film's release to December 17, 2021. Tony Revolori was also confirmed to be reprising his role as Flash Thompson.
In early October, Jacob Batalon and Benedict Cumberbatch were set to reprise their MCU roles of Ned Leeds and Dr. Stephen Strange, while Jamie Foxx was set to return as Max Dillon / Electro from Sony's The Amazing Spider-Man 2 (2014), with filming beginning later in the month. Richard Newby of The Hollywood Reporter felt Cumberbatch's casting indicated that the film would draw inspiration from the "One More Day" and "One Moment in Time" comic book storylines in which Parker's secret identity is restored with magic. Graeme McMillan, also from The Hollywood Reporter, felt that Strange's inclusion was not a coincidence considering the casting of past Spider-Man film actors like Foxx.
Filming
Second unit filming occurred from October 14 to 16, 2020 in New York City,under the working title Serenity Now, to capture visual effects plates and establishing shots. Filming occurred in the Astoria, Sunnyside, and Long Island City neighborhoods in Queens. On October 23, filming occurred in Greenwich Village in Manhattan.
The production moved to Atlanta by October 25, with Holland, Batalon, and Zendaya joining for principal photography, after Holland finished shooting Sony's Uncharted(2022) two days earlier. Seamus McGarvey served as cinematographer on the film after doing so on Marvel's The Avengers (2012). Principal photography was delayed from an initial July 2020 start date due to the COVID-19 pandemic. Shooting occurred at Trilith Studios, with strict safety measures in place on the soundstages to prevent exposure to COVID-19. To reduce interactions between cast and crew members on set during the pandemic and prevent further shut downs, the production reportedly relied on "innovative new technology" that scanned actors into a visual effects system that can apply make-up and costumes to actors during post-production. A light system was also in-place to signal when the cast could take off their masks for filming and when masks would be required for the cast and crew members to wear while set work was being done. Cumberbatch began shooting his scenes for the film in Atlanta by late November, before beginning work on Doctor Strange in the Multiverse of Madness (2022), which began filming that month in London. Filming ran for seven-to-eight weeks, before a break during the Christmas season, during which the working titles Serenity Nowand The November Project were used.
By December 2020, Alfred Molina was set to reprise his role as Otto Octavius / Doctor Octopus from Sony's Spider-Man 2 (2004). By then, Collider reported that Andrew Garfield would return as his Peter Parker / Spider-Man from Marc Webb's The Amazing Spider-Man films along with Kirsten Dunst as Mary Jane Watson from Sam Raimi's Spider-Man film trilogy, and that Tobey Maguire was in talks to return as his Peter Parker / Spider-Man from the latter films and Emma Stone was also expected to return as Gwen Stacy from The Amazing Spider-Man films. Discussing the return of actors from previous Spider-Man iterations, Newby felt a crossover-style film could "lessen the impact" of Sony's successful animated film Spider-Man: Into the Spider-Verse (2018). McMillan compared the "Spider-Verse" to the DC Comics comic event Crisis on Infinite Earths, saying "a multiversal storyline offers Marvel the opportunity to clean up some loose ends while setting up the future of its cinematic universe, and fulfill some fan dreams in the process". He felt it was possible for other Spider-Men to cameo in the film, including characters from Into the Spider-Verse, actor Nicholas Hammond from the 1970s television series, or Takuya Yamashiro, the Toei Spider-Man. McMillan also referenced the contract negotiations between Marvel and Sony when he suggested that the film could be used to separate Spider-Man from the MCU. /Film's Hoai-Tran Bui feared the film was becoming "seriously over-crowded" and wished that Holland could "hold his own without a bigger A-list star showing him the ropes", but was not opposed to having "some good old banter between Holland, Garfield, and Maguire", while Adam B. Vary of Variety noted these reports were not confirmed and raised uncertainty if the actors would appear outside of cameos. Shortly after, Holland denied that Maguire and Garfield would appear in the film to his knowledge, while Feige confirmed the film would have connections with Doctor Strange in the Multiverse of Madness.
Feige acknowledged in January 2021 that the film was being referred to by some as Spider-Man 3, and said that Marvel was internally referring to it as Homecoming 3 though that was not its actual title. By then, Charlie Cox, who portrayed Matt Murdock / Daredevil in Marvel Television's Netflix series, had reportedly shot material for the film,while an Atlanta set photo indicated the film would occur during the Christmas season.Filming occurred at Frederick Douglass High School from January 22 to 24. The next month, Holland described it as "the most ambitious standalone superhero" film, and denied the rumors that Maguire and Garfield would appear in the film. At the end of February 2021, the film's title was revealed to be Spider-Man: No Way Home, continuing the naming convention of the past two films of featuring "home" in the title. Filming took place at Midtown High School from March 19 to 21. The Atlanta Public Schools system had stopped allowing buildings in the district for use as filming locations because of the COVID-19 pandemic, but gave this film an exception since both the Frederick Douglass and Midtown schools were previously used as filming locations in Spider-Man: Homecoming. Hannibal Buress was revealed to reprise his role as gym teacher Coach Wilson by then. Filming wrapped on March 26, 2021. Filming was also expected to occur in Los Angeles and Iceland.
Post-production
In April 2021, Molina confirmed that he was appearing in the film, explaining that he had been told not to talk about his role in the film during production but he realized that his appearance had been widely rumored and reported on. Later that month, J. B. Smoove revealed he was returning as Julius Dell from Far From Home. In early May, Garfield denied that he had been asked to appear in the film, but later said "never say never",while Angourie Rice was revealed to return as Betty Brant. Later that month, Stone denied her involvement in the film.
Also in May 2021, Sony Pictures Group President Sanford Panitch acknowledged that there had been confusion and frustration from fans regarding the relationship between the SPUMC and the MCU, but stated that there was a plan to clarify this and he believed it was already "getting a little more clear for people [as to] where we're headed" at that time following the announcement of the SPUMC film Kraven the Hunter (2023). He added that No Way Home would help reveal more of this plan, with Adam B. Vary of Varietycommenting that the perceived notion of No Way Home introducing multiverse elements was believed to be what would allow Holland to make appearances in both the MCU and the SPUMC. The official trailer confirmed the involvements of Jon Favreau as Harold "Happy" Hogan and Benedict Wong as Wong, reprising their roles from past MCU films, and Willem Dafoe reprising his role as Norman Osborn / Green Goblin from Spider-Man(2002).
Future
By August 2019, a fourth film in the franchise was in development alongside No Way Home. In February 2021, Holland said that while No Way Home was the final film under his contract with Marvel and Sony, he hoped to continue playing Spider-Man in the future if asked. That July, Zendaya said she was unaware if another Spider-Man film would be made. Later, in December, when asked, Amy Pascal started that:-
"We're producers, so we always believe everything will work out - I love working with Kevin. We have a great partnership, along with Tom Rothman, who runs Sony and has been instrumental, a great leader with great ideas. I hope it lasts forever. And I'd confirm that there is going to be a Spider-Man 4, which is already in works."
―Amy Pascal
Videos
Trailers