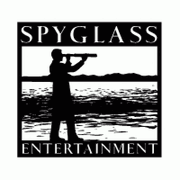 Spyglass Entertainment is an American film and television production company, Co-founded by Gary Barber and Roger Birnbaum in 1999, where they serve as Co-CEOs. It is currently owned by Cerberus Capital Management. Jonathan Glickman serves the current President of Production. Internationally, Warner Bros has released most films made by Spyglass (with exceptions). Spyglass Entertainment's logo is a man standing in front of an ocean scene looking through a spyglass. The company was previously known as Pathe Pictures
Jeffrey Chernov was once a production executive at Spyglass Entertainment.
Filmography
Edit
With Universal Studios
Edit
With Paramount Pictures
Edit
Abandon (2002) (also with Touchstone Pictures)
The Perfect Score (2004) (also with MTV Films)
The Love Guru (2008) 
Star Trek (2009) (also with Bad Robot Productions)
G.I. Joe: The Rise of Cobra (2009) (also with Hasbro and Di Bonaventura Pictures)
Dinner for Schmucks (2010)
No Strings Attached (2011) (also with The Montecito Picture Company and Cold Spring Pictures)
Footloose (2011) (co-production with MTV Films)
With Sony Pictures Entertainment
Edit
With Columbia Pictures
Edit
The Legend of Zorro (2005) (also with Amblin Entertainment)
Memoirs of a Geisha (2005) (also with DreamWorks Pictures, Amblin Entertainment and Red Wagon Entertainment)
With TriStar Pictures
Edit
With TimeWarner
Edit
Four Christmases (2008)
With Warner Bros.
Edit
With Twentieth Century Fox
Edit
27 Dresses (2008) (also with RatPac-Dune Entertainment)
The Happening (2008) (also with Blinding Edge Pictures)
With Disney.
Edit
The Pacifier (2005)
Eight Below (2006)
Underdog (2007)
Community content is available under
CC-BY-SA
unless otherwise noted.